Dancer Tips & Tricks to Staying Healthy & Happy
October 18, 2019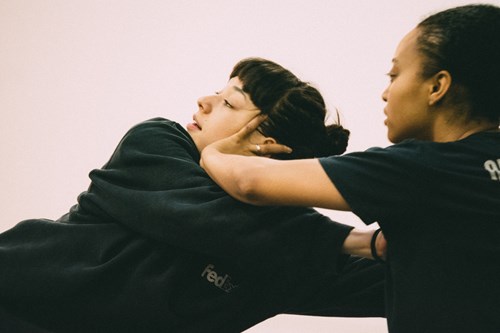 Hubbard Street dancers Adrienne Lipson & Alysia Johnson in rehearsal for HSDC Inside Out 2019. Photos by Chloe Hamilton.
As the days get shorter and colder and the worn-out sniffles slowly arrive, taking care of physical and mental health is crucial. In such a physically demanding artform, dancers at all levels need to take care of their bodies in order to be at their best in and out of the studio. Hubbard Street dancers, Adrienne Lipson and Alysia Johnson, share some of their insights into how they stay healthy and happy as the seasons change. 
Tuning into personal needs is something that Adrienne and Alysia both feel is of utmost importance. September and October tend to be busy months full of changes inside and outside of the studio, so monitoring how you feel both physically and mentally could either make or break the foundation for the season. It is key to learn how to sense what your body craves instead of continuously overdoing it.
Alysia said that she frequently says no to plans when she is busy preparing for a performance and prioritizes sleep. "I am big on taking a nap in the middle of the day if we get a break, or even just a ten minute nap during lunch time," she says. "Sleep is the most important thing."
For nurturing mental health, it is important to take the time to relax and reflect to deter feeling overwhelmed. "I have to remind myself that it's okay to say no, and to take a quiet evening to reset and recharge," Adrienne says.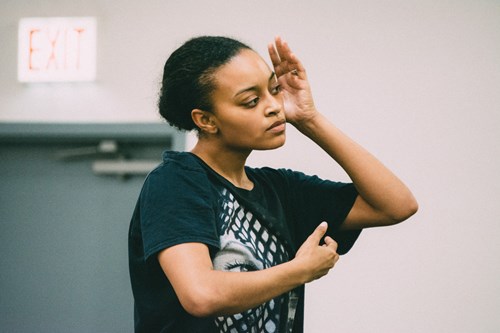 When the idea of getting out of bed on a cold, gloomy fall day seems painful, Adrienne turns to her colleagues creative energy for inspiration. "Sometimes I find that it's actually nice to be inside a sweaty studio, working on something physical and lively while it's storming outside, " she says. "There's a definite sense of camaraderie when we continue to do our work despite the crazy weather that Chicago often delivers!"
For Alysia, motivation comes from the opportunity to make each day the best that it can be. "Recently, I've just been excited that everyday is a new chance to be good at something old or something new. Getting the chance to hone that energy in is motivating enough. I could be so tired by the end of the day but when I get home I am still dancing in the kitchen," she says.  "That joy there reminds me of why I am doing what I am doing and I try to take that feeling and passion into the studio." Alysia is also motivated by the art form itself, she says at the end of the day, art is a service to others, and if she is not in the studio trying her best then she is in a way depriving people of that experience.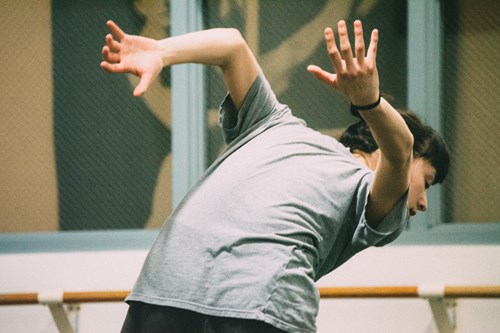 "As it gets darker and colder, I try to pay close attention to my body for any little sign of sickness, and nip it in the bud as soon as I can," Adrienne says. She also swaps out riding her bike for the bus on particularly cold days to stay dry and warm. Both the company dancers agree that layering their clothes while in the studio it is important to stay warm and avoid additional stress on the body.
When it comes to the first signs of a cold, instead of panicking, Adrienne reaches for Emergen-C packets and drinks lemon and ginger tea throughout the day. When in the studio, it is important to be stocked with snacks that provide sufficient amounts of energy. Alysia and Adrienne both keep trail mix with them at all times. "Trail mix is a big thing here at Hubbard Street; nuts are high in protein and are also quick to eat which makes a perfect snack when you're on the go," Alysia said. 
Adrienne likes to bring leftover food from her dinner the night before. "Typically I will have baked sweet potatoes, zucchini, mushrooms, and tofu all mixed together to make a sort of warm autumnal salad. Then if I want to lighten it up I'll add sliced avocado and crumbled goat cheese. It's quite a bit heartier than a spinach salad so it gives me the energy I need to get through the day, but still makes me feel healthy and nutritious," she says.
Alysia is a vegetarian, so she eats an abundance of beans and sweet potatoes to get her protein and keep her energy up. She says that she could eat broccoli everyday for the rest of her life and not get sick of it, but she notes that a little bit of candy also doesn't hurt.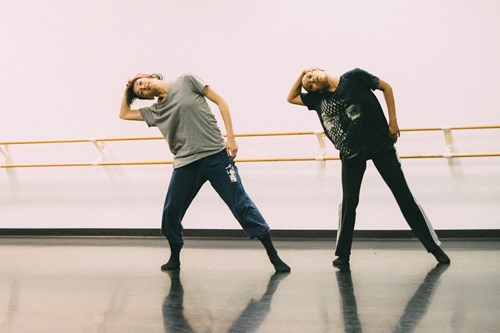 In this changing season, it is hard to avoid getting down in the dumps. Being mindful and aware of your body's needs could save your overall health and mindset. "Take the time to just breathe, even if it's slower," Alysia says. Bodies need proper care and consideration in order to feel healthy while dancing; they need rest in order to feel their best in the studio. It is key to treat yourself kindly throughout the process, even if that means taking a step back; your body will thank you in the long run. 
Be sure to stay tuned to Hubbard Street's blog to see more from Alysia and Adrienne as they prepare to perform in Forge Forward, November 7, 9 + 10 at the Harris Theater for Music and Dance. More information and tickets are available here.