School Residency Profile - Aldridge Elementary
March 27, 2018
School Residency Profile – Aldridge Elementary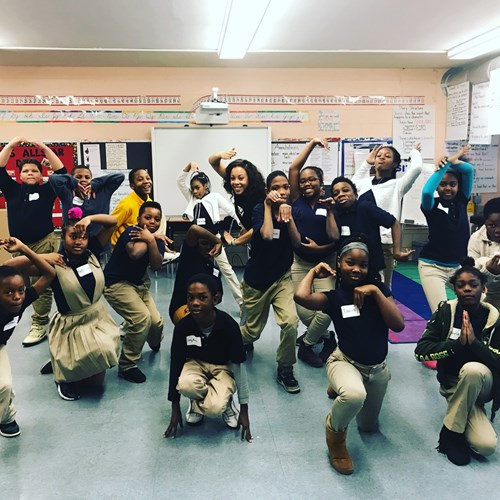 "I believe the Arts, specifically Dance, are integral to a comprehensive education in public schools. Creating a space for the mind and body to connect and work in a fashion that promotes individuality and community is extremely important for youth to experience and understand," said Earlyn Whitehead, a Teaching Artist for Hubbard Street's education programs.
Whitehead has been working with Hubbard Street since the start of the 2017-18 school year and most recently started working with Aldridge Elementary , providing a dance residency for students in grades 3-8 funded by the school's grant from Chance the Rapper's Social Works fund.
Aldridge Elementary, on the south side of Chicago, began their program in December 2017, when students saw a matinee performance of Hubbard Street Dance Chicago at the Harris Theater. The students then began participating in weekly dance classes every Friday since January 2018. Of the 199 total students at the school in grades K-8, 123 participate in the dance program.
Cynthia Treadwell, the Principal at Aldridge, said she was nervous initially to bring a dance residency into the school, unsure of how her students would react.
"None of my students had experienced dance on this level before and I was concerned I wouldn't get the buy-in. It's really hit or miss with my students," she said.
However, Treadwell was pleasantly surprised by the reaction of her students to the program, revealing that she hasn't gotten one complaint from either the Hubbard Street staff or her classroom teachers regarding students' behavior.
"Even some of my most challenging and reluctant students are extremely engaged in the program and look forward to Fridays when they get the opportunity to dance."
Whitehead begins each class at Aldridge seated on the carpet with a check in and recap of the choreographic tools they have been adding to their "choreographic toolbox." The class then gets moving with a BrainDance warmup followed by games and activities that introduce and explore the concepts of the day's lesson.
Part of the Hubbard Street curriculum is using the B.E.S.T Dance Concepts, which stand for Body, Energy, Space, and Time. Whitehead said her students recently explored Energy and Rhythm in the classroom, discovering how dancing can be smooth and sharp and how those qualities can affect the rhythmic patterning of movement sequences.
Treadwell said her students' engagement is at an all-time high when they are participating in dance classes as opposed to their regular structural block classes. She even said that attendance is higher on Fridays when residency classes occur.
"Since our first lesson in January, I have already seen a significant amount of growth in my students. They are taking more risks with their movement choices and asking more questions," Whitehead said.
The students' growth extends beyond physical movement, Whitehead said she has seen tremendous growth in their ability to collaborate with their classmates and use creative problem solving.
"The opportunity to see students explore their potential as artistic individuals is why I love being a teaching artist with Hubbard Street. My favorite moments are seeing the students take pride in themselves, their classmates, and their movement." Whitehead said.
Treadwell is grateful for the opportunity to provide in-depth education in the arts to her students, an opportunity that they did not have until last year. She said having this creative outlet has really created an interest for her students and many of them are now pursuing the Arts outside of school as a result. She is excited to continue partnering with Hubbard Street in years to come and continue to provide meaningful experiences in dance for her students.
To learn more about how to bring Hubbard Street to your school, and all of Hubbard Street's Education programs, visit our School Programs webpage.