A World of Ideas: In Conversation with Rena Butler
October 14, 2019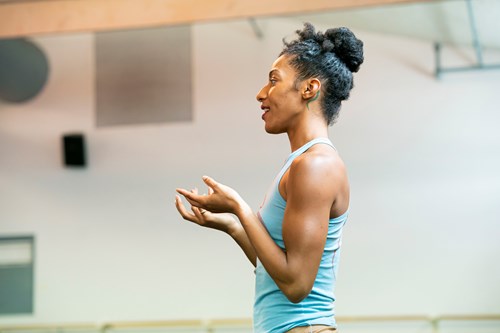 Rena Butler teaching in the Summer Intensive studio. Photo by Todd Rosenberg. 
The wait is finally over, we are bringing you Part Two of our exclusive interview with Princess Grace Award Winner and company member Rena Butler. This time, we are focused on her new work: This, That, and the Third.  The new work will premiere at Forge Forward, November 7, 9 + 10 at the Harris Theater for Music and Dance.
Missed Part One? Read it here.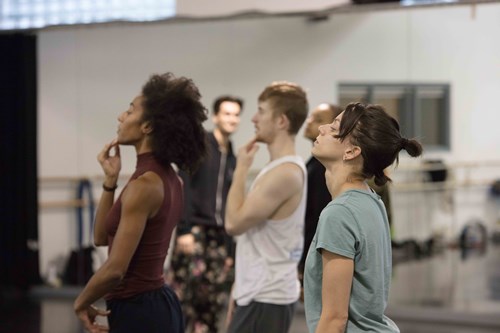 Rena Butler in rehearsal for III.THIRD  in 2018. Photo by Henry Trinh.
HSDC: Tell us about your piece for Forge Forward.
Rena Butler: I decided that I really wanted to make a piece about code-switching. I think the concept has evolved since then, and now it's about how we as individuals share space. It's a simple as that. From there, you'll see ways of switching in and out of who you are and where you come from to how you act when you have to adapt to a new space. I think it will keep evolving as we are steadily in the process.
Can you explain what code switching is and why it's an inspiration for this process?
The simplest way I can describe it is speaking a different language or finding another dialect in order to communicate more freely or more appropriately with someone of a different culture. The way I'm seeing it, and the way that I'm using it is through a multifaceted lens of how one can keep adhering and adapting to an evolving space. Building the work abstractly enough so that the audience can identify themselves in it, and make decisions on what I'm presenting before them. There is a fine line too, of how that action could in fact sterilize oneself in the process of adaptation. Yet, I'm leaning towards, and striving to find, the multiplicity in it.
Code-switching could very well be used to add more colors to our palette of identity. It brings a universality to each one of us, no matter where we've come from, and provides connectivity to juxtaposing communities. My hope is that through this process I can answer my own questions of how I/we can build a multilingual and progressive future for ourselves. I think you can look at code-switching through any scope.
You are only using 6 dancers in your new work compared to the 30+ dancers you had in your last work, III.THIRD. How has that changed your process?
When Osnel Delgado, the Artistic Director of Malpaso Dance Company was in town for our collaboration last year he asked me to show him some of my work. After watching he said "wow, you are kind of all over the place as a choreographer, it really shows that you've been everywhere in your career." He told me that now it's just about fitting all my experiences on a tiny plate. I think that metaphor really hit me.
I was so distracted in the last process, and it moved so fast that I was just trying the whole time to stay on the horse. I really wanted to pare down and simplify my voice this time.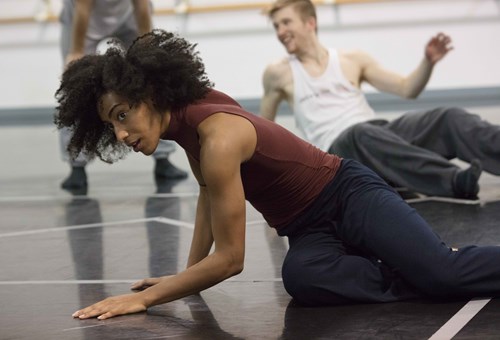 Rena Butler in rehearsal for III.THIRD  in 2018. Photo by Henry Trinh.
What are your musical plans and inspirations for this piece?
I'm working with Darryl Joseph again and we have Chance the Rapper on board. I needed to pay homage to Chicago, it's the place that raised me before I spent 10 years in New York. With Chance's music, he talks a lot about experiences in Chicago.
I know it's going to be challenging to listen to rap while watching dance. For me, the challenge is how to get people open enough while they are viewing the work to hear someone else's experience from another world, which is the whole concept of the piece.
Do you think Rena 5 years ago would make this piece?
Rena five years ago would not even be concerned. Coming back to Chicago feels transformative, even after two years I still feel like I'm adjusting. With that I become more aware of the skin I'm in and how I'm processing my thoughts and feelings, and everything that is moving around me. The question that I'm always asking myself as an artist is, "Am I contributing?" All I ask is to be a participant.
Bill T. Jones says, "I just ask to be a participant in a world of ideas." I love that quote. I think that's all we can ever ask for really; I just really want to stay participatory in everything that's going on around me.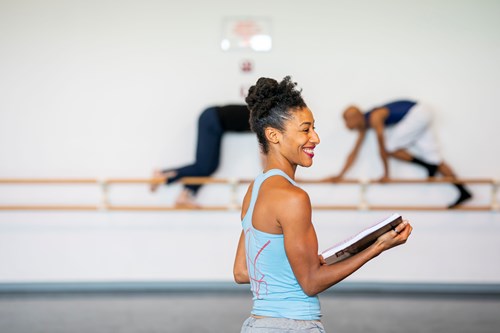 Rena Butler teaching in the Summer Intensive studio. Photo by Todd Rosenberg. 
Learn more about Rena and the other works featured in Forge Forward, and purchase your tickets, here!