Patience & Progress: In Conversation with Rena Butler
September 4, 2019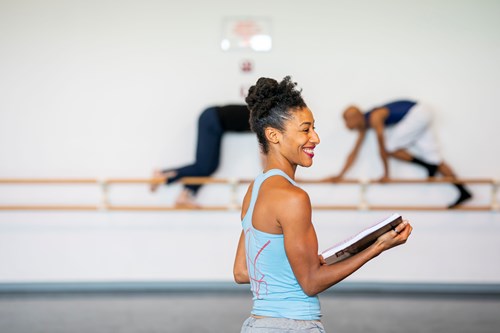 Hubbard Street Dance Chicago's Rena Butler in the studio with our Pre-Professional Choreographic Summer Intensive students. Photos by Todd Rosenberg. 
We couldn't be more excited for our very own company dancer Rena Butler for her most recent achievement as a 2019 Princess Grace Award Winner for Choreography. Rena shared with us what it means to her to win the award and how she's grown as a dancer and a person over the past few years.
Stay tuned for Part 2 of this interview, where Rena explains the inspiration for her new work, funded by the Princess Grace Award, for Hubbard Street's fall performance, Forge Forward, coming soon!
What is the process for being nominated and applying for a Princess Grace Award?
It was a pretty intense process but extremely rewarding. Glenn gave me the news that he would be nominating me about a month prior to when everything was due. I really had to buckle down every night and find something that really reigned true to me to present in this proposal. I had to write a personal statement about the work I intended to make, and submit a history of all of my professional work and samples of previous pieces.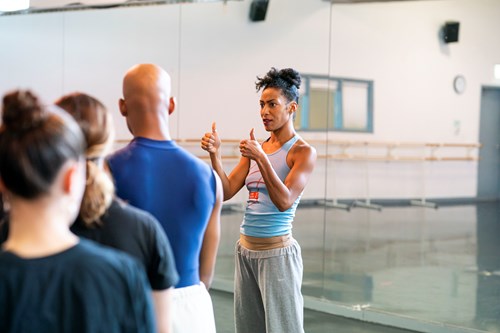 You've been nominated before, and didn't win, what do you think has changed in your artistry since you first applied?
I was nominated for the first time about five years ago. I remember writing that essay and feeling kind of all over the place, not having enough awareness of where I was or where I wanted to go as a dance artist. It's been really awesome to feel my growth since then, and coming to Hubbard Street has really been a blessing to keep giving me more inspiration, more artists in the company to work with, and more choreographers coming in to feed that inspiration.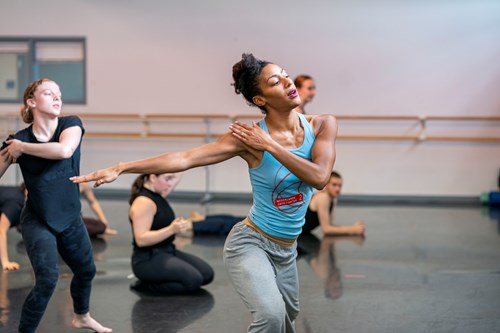 How is Rena now different from Rena five years ago?
It's been so indulgent for me for several years; I'm always looking at myself in the mirror, always fixing myself, trying to give the choreographer what they want and now I'm starting to see the other side. How do I reach beyond the world that I've been in for so many years? There's something about 30 that feels like a transformative period for me – coming back to Chicago feels transformative, even after two years I still feel like I'm adjusting. With that I become more aware of the skin I'm in and how I'm processing my thoughts and feelings, and everything that is moving around me.
The question that I'm always asking myself as an artist is "Am I contributing?" Bill T. Jones always says "I just ask to be a participant in a world of ideas." I love that quote. For me, I want to contribute to a progressive world and I'm asking myself this question as I keep defining who I am choreographically and as a dancer.
What advice would you give to other young dancers?
Everything takes time, you have to have patience. I think we just need time for our minds and souls to mature and life experience, not just in the studio but outside of it as well to be able to cultivate those ideas and what they mean to you. For me, traveling has opening up my mind and heart to new ways of doing things in everyday life; leaving my shoes at the door from when I spent time in Asia, cooking for healing when I went to Sri Lanka, things like that somehow find their way into the studio. I try to make space for all the experiences that I've lived in the work somehow.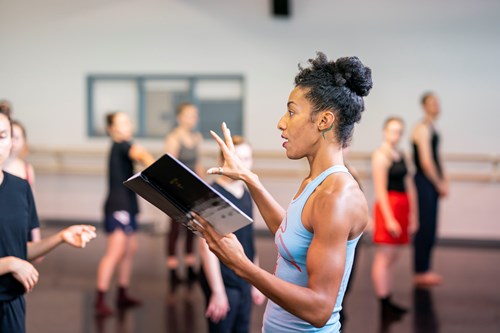 What does it mean to win this award?
The first time I didn't get the award, it was like the end of the world. Then I started to question why am I feeling this way because of an award that wasn't meant for me at the time and I think it had a lot to do with validation. And this year, I let it go. I have accepted the fact that the work that I do is for me, and hopefully it touches one person in the audience and then I know that I've done something.
There's also this big thing about representation, and what this means for a 12-year-old black girl on the south side of Chicago who grew up like me and looked at Hubbard Street and didn't really see anyone that looked like me. Now, there is someone who looks like me in the company and I just want to keep doing my best. I want to be that guiding light for people and for any young person out there that feels like it's not possible for them. I'm just so happy to be in this position because now I can give the good that I so desperately wanted as a kid. I never would have imagined that my life would have turned out this way; being in the companies that I've been in or traveling to the places that I've been able to travel, and that's the coolest part about this award is that I'm here doing this and you could do it too.

Another round of applause for Rena and check back soon for more behind the scenes information about Rena's new work for Forge Forward!