Youth Faculty Profile: John Cartwright
July 25, 2018
Youth Faculty Profile: John Cartwright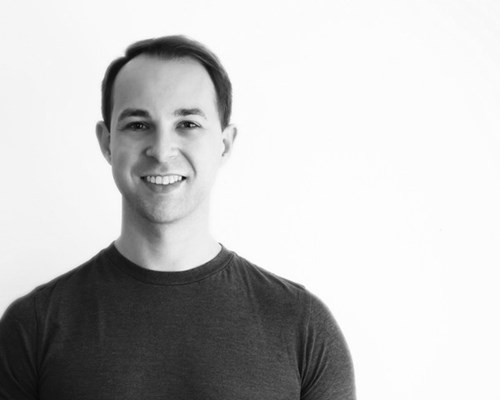 Meet John Cartwright, our Youth Dance Program Secondary faculty head. Learn more about John and the classes he teaches in our Youth Dance Program.
Could you give a little background on yourself and any professional projects you are working on right now?
I graduated from Butler University in 2008 with Bachelors of Science degree in Dance - Arts Administration. After graduation I joined the Louisville Ballet as an apprentice for two years.  I then decided I wanted to pursue more contemporary dance and moved to Chicago to join Thodos Dance Chicago (TDC). In addition to performing and touring with TDC, I began to hone my teaching skills and exploring my own choreographic voice. When Thodos folded it's performing ensemble last year I began working with Chicago Repertory Ballet (CRB). While working at CRB, I'm also continuing my choreographic endeavors through an upcoming project with the Thompson Street Opera for "When Adonis Calls," a new opera making it's Chicago premiere in November and December.
How old were you when you first started taking dance classes?
During the summer before high school I did a musical theater camp at my local fine arts center in Madisonville, KY. The dance teacher there  convinced me that if I really wanted to make it to Broadway I would need dance lessons so I enrolled in ballet and quickly realized how much I loved it. After four years of training 3-4 days per week, numerous performances of The Nutcracker and other classical ballets, and doing various ballet summer intensives, I had changed my goal from Broadway to a ballet.
How long have you been teaching dance?
I've been teaching dance for 7 years now. I began teaching one contemporary class at a studio in Northbrook in 2011 and continued to add classes into my schedule, teaching everything from ballet to modern to jazz.  In 2012, I became the Co-Artistic Director of Thodos Dance Chicago's Youth Ensemble where I set choreography and taught classes in ballet and contemporary. In 2017, I became a faculty member, specializing in ballet, at the Kentucky Governor's School for the Arts, which holds a summer residency program at Centre College in Danville, KY. In the past 7 years I've taught everything from beginning Hip-Hip to advanced Pointe; I've lead master classes on topics ranging from contact improv to dance education for non-dancers, and I would say that I've learned just as much, or more, from my students than they have from me. 
Could you talk about your role as Secondary Faculty head and what that job entails?
In my role as Faculty Head for the the Secondary Program I act as a liaison for the faculty, manage curriculum development, and assess the implementation of that curriculum.   This year we've been working on a major overhaul of our ballet curriculum.  Myself and a small committee of ballet faculty, overseen by our education administrators, have been working on re-leveling the program, developing new syllabi, and adjusting our current model of student assessment. We hope these new changes will provide a clearer pathway to success for our students, parents, and teachers. In another effort to elevate our current curriculum, I have been working on creating new performance opportunities for our students. I am very excited that we will be adding a Winter performance into our schedule next season; a presentation of Carnival of the Animals in December. Unlike our Spring Showcase, the Winter performance will be  audition based with rehearsals outside of regular technique classes. The goal of this initiative is to provide more performance opportunities to our students, especially those who might not be old enough to audition for our Youth Ensemble.
What inspires you most as a dance teacher?
I am constantly inspired by other teachers.  As I continue to train and take class through my professional years, not only am I learning and improving myself as a dancer, but I'm learning different styles and approaches to teaching. I am also very much inspired by my students and what they represent as the future of dance. I want my students to not only develop a love for dance and improve their technical skills, but I also want them to gain an appreciation for the art of dance. Whether or not they go on to become professional dancers, I want my students to understand the necessity of dance so that they can go out into the world and be advocates for dance. 
What advice would you give to young dancers?
To be sponges; take as many dance classes as you can, and in those classes listen, learn, and absorb as much information as you can. Also, take care of yourself. I see so many young dancers trying to do everything: ballet, gymnastics, volleyball, swimming, the school musical, dance team, etc. While having a diverse and robust extracurricular life might look good on college applications, being stretched too thin on time can lead to burnout and injury. Young dancers should enjoy dance and enjoy being kids. 
Learn more about the Youth Dance Program and register for classes here and read more about all of our Faculty members here.