Love on the Dance Floor
February 14, 2019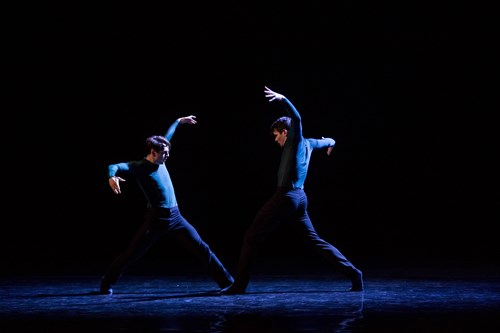 Kevin J. Shannon (left) and Craig D. Black Jr. in Out of Your Mind by Alejandro Cerrudo. Photo by Cheryl Mann. 
Hubbard Street Dancers Craig D. Black Jr. and Kevin J. Shannon, now married, had no idea what their future would hold when they met at a party hosted by Hubbard Street Artistic Director Glenn Edgerton six years ago. They give us the Valentine's Day scoop on long distance relationships, partnering together, and what they enjoy most about working together at Hubbard Street.
How long have you been together? How long have you been married?
 Kevin J. Shannon (KS): We've been together almost 6 years and married for a little over 2 years. We got married in December of 2016.
 Craig D. Black Jr (CB): (laughing) Good, you got it right!
Can you give us a little background on how your relationship began?
 CB: We met when I was still dancing for Aspen Santa Fe Ballet and Kevin was dancing here. Glenn, Hubbard Street's Artistic Director, was having a party for Aspen Santa Fe Ballet because his friends were the directors and Aspen Santa Fe Ballet was performing in Chicago.
 KS: I had broken my foot and so I wasn't really dancing at that time. So I showed up at this party not really looking to date anyone and Craig tried to talk to me all night and nothing really came of it. The next day my friend invited both of us to dinner and it ended up being a date and we talked the whole time.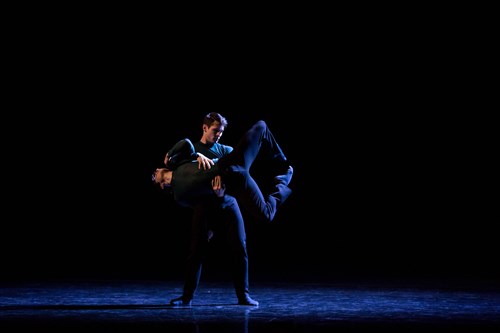 Kevin J. Shannon (left) and Craig D. Black Jr. in Out of Your Mind by Alejandro Cerrudo. Photo by Cheryl Mann. 
You two were long distance for a while working in different companies, what was that experience like?
CB: It added its own challenges, especially being in two different companies with different touring schedules. We really could be on opposite sides of the earth at times.
KS: I struggled, but I knew that the end goal was be together and that at some point we would end up in the same place. I knew we wouldn't be long distance forever. It was kind of fun in some ways, we decided to meet up in Denver a lot because it was easy for both of us to get to for "Denver weekend getaways."
Is it easier or harder to work together in the studio, as opposed to with someone else in the company?
CB: It depends on what you're working on and how intensive the partnering is. When I first joined the company, I was learning a few of Kevin's roles so we had to work really closely then. 
KS: I'm very secure in my place here and sometimes I would forget that it was different for Craig coming from a different company. He was trying to figure out where he fit in the company, and I was trying to support him in that. We were worried about working together when we first started, but we've figured out how to make it work and it hasn't affected our relationship outside of the studio.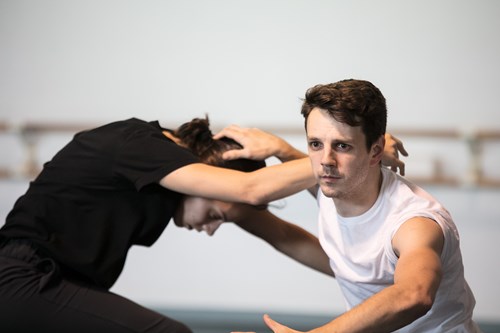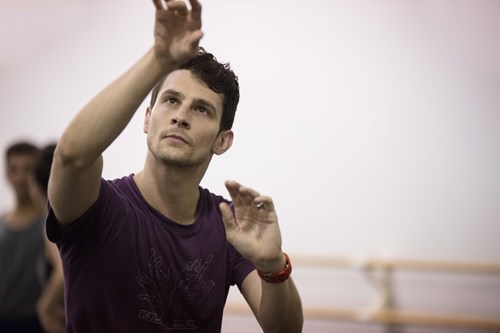 Kevin J. Shannon (above) and Craig D. Black Jr. in rehearsal. Photos by Henry Trinh.
How do you separate your work life from your home life?
 KS: We each have our own things. I do ceramics and Craig teaches a lot. We also have different friends. He has developed his own relationships that he's made here in Chicago, and I try not to make him be with me all the time because we are together a lot so we need our own spaces, and friendships, and activities. Then when we come together we can share more with each other.
Is there any piece in Hubbard Street's repertoire that you two especially enjoy dancing together? 
CB: We have a duet in Alejandro Cerrudo's Out of Your Mind which is really fun. We have sort of a size difference so I have to plie a lot when I partner with him (laughing). Crystal Pite's A Picture of You Falling is also special because Kevin learned the piece before me and he was able to coach me and give me thoughts and ideas on it. Even though we aren't dancing together, it's a special piece to me because of the help he provided to me.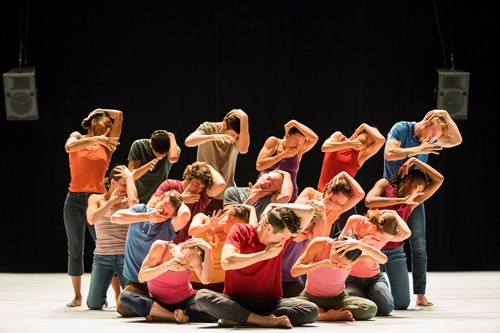 Kevin, Craig, and Hubbard Street Dance Chicago in Decadance by Ohad Naharin. Photo by Todd Rosenberg. 
What's the best part about working together on a daily basis?
 KS: It's pretty cool to be professional dancers together at Hubbard Street. It's such a high caliber company, and knowing that your partner is on that same level and to be able to share things in that way on a daily basis is amazing. A lot of people don't get to have that type of relationship, it's very rare. It's so fun and special that he's here and we get to share the experience of dancing together.
CB: I think more than being able to dance together, because we started long distance, it's just amazing to be together. Now that we are in the same place and have the same schedule we can take vacations together and someday start a family together.
 Anything else?
CB and KS: Happy Valentine's Day!
See Kevin and Craig performing in works by Robyn Mineko Williams and Malpaso Dance Company's Osnel Delgado on March 2 + 3 at the Auditorium Theatre! Visit our Spring Series webpage to purchase tickets!