How to Dance at Home #WithHubbard
April 17, 2020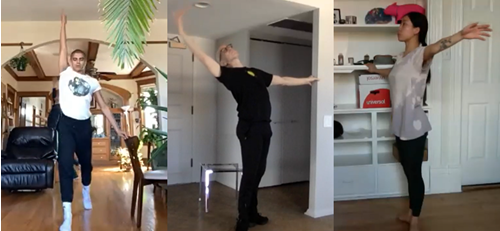 From left to right: Hubbard Street's Abdiel Figueroa Reyes, Glenn Edgerton, and Connie Shiau in company class on Zoom
Sheltering in place has inspired many people to find creative ways to keep their bodies active and moving at home. From using soup cans for yoga blocks to laundry detergent deadlifts, there are seemingly endless ways to workout at home with everyday objects around the house.
The dance community is no exception to this wave of re-purposing household items for working out. Don't have an at-home ballet barre? We have seen dancers using high-backed chairs, bookshelves, the wall, and even an ironing board to keep their balance during our Hubbard Street company ballet classes.
For even more ideas on how to use regular household items (and pets!) to stay active at home, visit the blog of our Season Partner, Athletico Physical Therapy: Workout at Home with these Household Items.
In case you missed it: we have moved Hubbard Street company class to a virtual "studio" on Zoom! Anyone, anywhere can dance #WithHubbard for absolutely no cost.
Join us every Monday-Thursday at 11 am CST on Zoom using Meeting ID 213 011 957 or watch on Facebook/Instagram Live @hubbardstreet.