Inside the Process: HALF OF US
May 21, 2021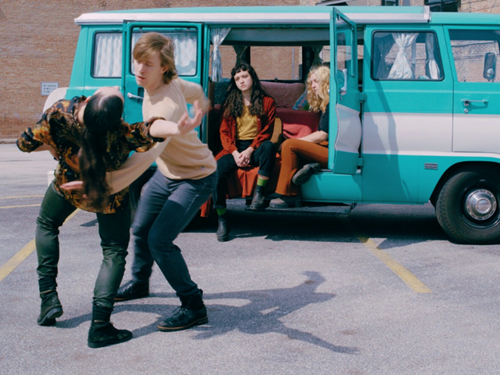 Hubbard Street Dancers Jacqueline Burnett and Elliot Hammans with Ohmme (Sima Cunningham and Macie Stewart) in Half of Us by Robyn Mineko Williams. Film still courtesy of C.J. Arellano.
Get insight on the creative process from Elliot Hammans and Jacqueline Burnett, the two company dancers featured in Robyn Mineko William's new film Half of Us, presented May 20, 22 + 23, 2021 as part of Season 43: A Virtual Homecoming.
What was it like for you, working with Robyn and Ohmme to create 'Half of Us?' 


Elliot Hammans (EH): We initially started this project with a 3 day workshop with Ohmme in the studio. Macie and Sima improvised for hours shaping their sound alongside our movement improvisations and Robyn's ideas.
As we created together, there were few words shared. Knowing and creating with Robyn for more than 5 years, it isn't a necessity to speak when creating or when working on movement, especially when Ohmme was creating a beautiful soundscape around us. It was a blast to be back in the studio after months of dancing in our homes, especially with two artists I am deeply inspired by and look up to. 
How did working on the creation of this new piece support and nurture you, as an artist and a person?


EH: It is always special to be a part of a creation of a new work, and especially with Robyn. The process of creation requires so much more of an artist individually than any other type of work.
Having not really danced or created in a studio in many months, I had to let go of feeling unprepared, nervous, and inadequate. As soon as we got moving and I realized the trust and understanding with Jac and Robyn was still there, the piece took shape rather quickly. It felt so great to be sharing space with artists again. It is always a joy to dance, but what a joy it is to dance with others.
Jacqueline Burnett (JB): My mental health is always best when I'm moving regularly.  The process for Half of Us was such a gift because Ohmme, Robyn, Elliot and I felt safe being in a studio together. We were able to create in the most natural way I know-- by responding to one another's movement, music, and energy in real time, without virtual delay or doubt. 
Are there any distinct moments or stories from the process that stand out?

EH: One of my favorite memories was on a day near the end of the rehearsal process, we walked into the studio after lunch and noticed Robyn intricately taping something out on the floor. She had perfectly replicated the floor plan of the camper van from images of it to scale onto the floor, amazing. We used it to create a miniature version of the entire dance inside of the van, Undercover Episode-style.


Experience the mesmerizing ebb and flow of movement and music in HALF OF US + hear more insights from Jac and Elliot during the live, post-show Q&A discussion happening this weekend, May 22 + 23 >> Free RSVP

FOR MORE INSIGHT ON THE WORK
Check out this 3-part interview with co-director and choreographer Robyn Mineko Williams.