From the Choreographers: Lil Buck and Jon Boogz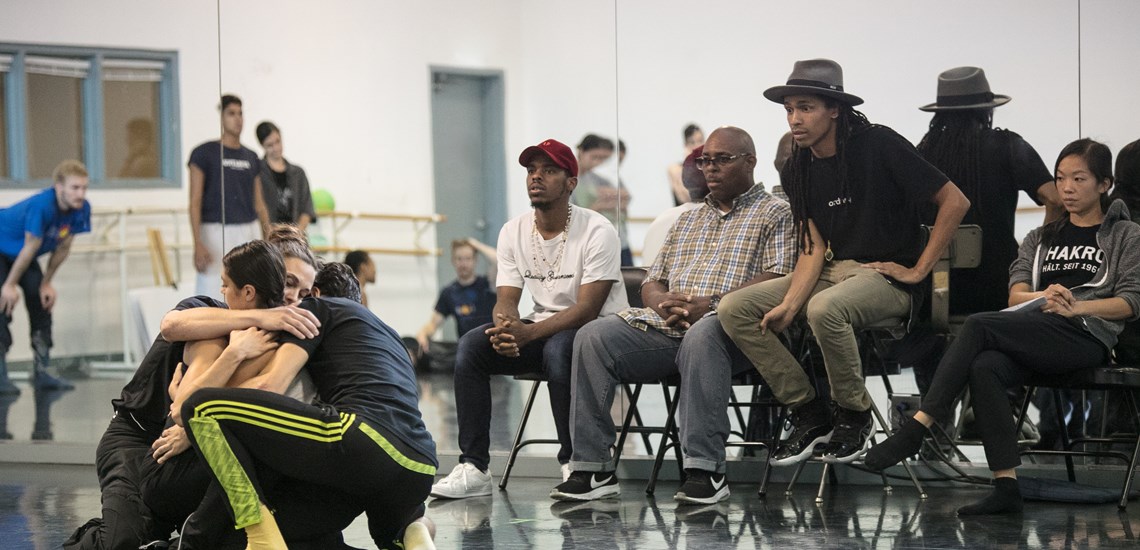 September 25, 2018
From the Choreographers: Lil Buck and Jon Boogz
Take a peek at the rehearsal process for There Was Nothing premiering in the Fall Series this weekend with our Inside the Studio video and take a look at what Movement Art Is choreographer's Lil Buck and Jon Boogz have to say about working with Hubbard Street on this process.
On the process:
Lil Buck: "Jon Boogz and I were commissioned to come in with Hubbard Street. We're a duo, we have our own company called MAI, which stands for Movement Art Is. We've made up a 15 minute piece and Emma Portner, who is an amazing choreographer, is finishing up the other half."
On the inspiration of There Was Nothing:
Jon Boogz: "There Was Nothing is a very powerful piece curated by MAI that touches on climate change. The piece was inspired by a Native American story about creation that I was lucky enough to have shared with me by my friend DJ Two Bears. DJ Two Bears is from the Lakota Tribe in Standing Rock North Dakota. I love this piece so much because it takes you on an emotional journey. We start at the beginning: the creation of Earth. It goes from the creation of Earth to Earth giving birth to man to then in the final chapter, Mother Earth's tormented relationship with man and with humanity."
What Boogz and Buck hope audiences take away from the piece:
Jon Boogz: "So we hope this piece inspired people to appreciate the planet, appreciate our resources, start to have a deeper rooted connection with Mother Earth again. And ultimately understand that climate change is a real issue and it's a real thing and if we don't do something about it now as a human race, things could get worse for us in the future, and for the youth of the future. So this piece is to inspire, and hopefully provoke change and spark some dialogue about this topic."
On working with Hubbard Street:
Lil Buck: "When we got in here and saw them (the Hubbard Street dancers) dance we were just like, 'man, we can make some real magic with these dancers,' because they are just that good! It's been a blessing working with Hubbard Street these past few weeks on this choreography. They are incredible dancers, some of the most incredible dancers we've ever seen actually, especially as a group. It's fun to work with them because they just give you so much life."
Read the spoken word from There Was Nothing and For All Its Fury choreographed by Emma Portner.
THERE WAS NOTHING
Creation Story
Written and recited by Robin Sanders
Before the planets, stars, or being, there was
nothing
until the trinity - oxygen, fuel, and heat
In a sphere of fire the three would meet

Caressed by the crisp coolness and wind,
With circular vigor the sphere begins to spin
Finally erupting
Composing a cacophony
Ending in the reverberating splendor of the
universe coming to be

This combustion of chaos and artistry

Crimson flares
citrus hues
yellow glow
blazes blue
tints of violet and
white lining
Beauty Ignited
Heat lingered thereafter

The universe rapidly inflated and expanded

While remnants of the sweltry explosion filled the perpetual absence.

Chilled matter settled long enough to produce atoms

Before Adam and Eve, the Universe gave birth to a masterpiece
All things taken collectively - sun, moon, sound, movement,
Billions of galaxies
dark matter and energy all took form

And Mother Earth was born
 Shapeless and empty with darkness over the surface of the deep
The presence of hot and cold began creating

A great stillness hovered

Earth's whisper brought forth the waters and constructed borders
assigning to them where to flow and where to retreat
 From the watery depths, the mountains were made
The earth's floor sketched out vegetation and trees,

And suspended from above hung lights -
the sun and the moon in the vault of the sky
separating day from night
The cosmos now completed
And ornately fitted, full and bright

Dissonance now gone
only echoes of euphony heard
From our universe and majestic Mother Earth
 The earth's canvas was exquisitely constructed.
Airbrushed skies
Matted finishes
Misty streams of cleansing
Sun and moon hanging

But she was oddly unfinished with no one to
behold or partake in her splendor
She then gave life to all creatures.
Her seas vast and spacious
Skies adorned and magnificent
Land fertile and plenteous now brimming with all
her creations
She then called man into existence
Divinely forming him by her spirit
A seed of the elements and supernatural
He peaceably lived with his Creator

She gave to him all good things
Provision and nurturing
Winds and rain
Fields of enchantment to frolic and play
A Light to guide him by day in the calm of
night to steal away
Her whole frame as a tent for him to retreat

Perfect peace was made

Two connected beings - like cords intertwined
and not easily sundered
A child covered by the love of a Mother
Their love for one another unending and splendid
No height or depth could separate them
A firm foundation of oneness not easily shaken

Oceans deep was their unity
Profoundly rooted and established since the
beginning

She gave him life and all created things to explore
Many were the works she designed for him to
enjoy
but over time, harmony was interrupted by
discord

Fading from his memory were all the things she
had freely given -
Her spirit, his life, and all of creation

No longer did he desire a life of unmatched
excellence together
He instead traded the fruit of community for
isolation
Seeking for him and him alone complete dominion

His thirst, quenched only by the illusion of power
He'd begin subjugating all things for his own fulfillment

He ceased being the created and grateful
and became a hostile invader

Like a prodigal excessive and reckless
he depleted mankind of his inheritance

pillaging the very land he occupied
Devaluing his only source of life
Earth's tears poured out from the firmament
sorely she lamented

He unrepentant persisted even until this day
While Earth continues to make provision
instructing her land and winds and waves to obey

Their eternal union shattered like dreams
intercepted by tragedy
And still: Mother Earth lovingly awaits for their day
of reconciling.
FOR ALL IT"S FURY
Mushrooms
By Sylvia Plath
Overnight, very
Whitely, discreetly,
Very quietly
Our toes, our noses
Take hold on the loam,
Acquire the air.
Nobody sees us,
Stops us, betrays us;
The small grains make room.
Soft fists insist on
Heaving the needles,
The leafy bedding,
Even the paving.
Our hammers, our rams,
Earless and eyeless,
Perfectly voiceless,
Widen the crannies,
Shoulder through holes. We
Diet on water,
On crumbs of shadow,
Bland-mannered, asking
Little or nothing.
So many of us!
So many of us!
We are shelves, we are
Tables, we are meek,
We are edible,
Nudgers and shovers
In spite of ourselves.
Our kind multiplies:
We shall by morning
Inherit the earth.
Our foot's in the door.

Come see the Fall Series this weekend at the Harris Theater for Music and Dance. Purchase your tickets here.