From the Choreographer: Florian Lochner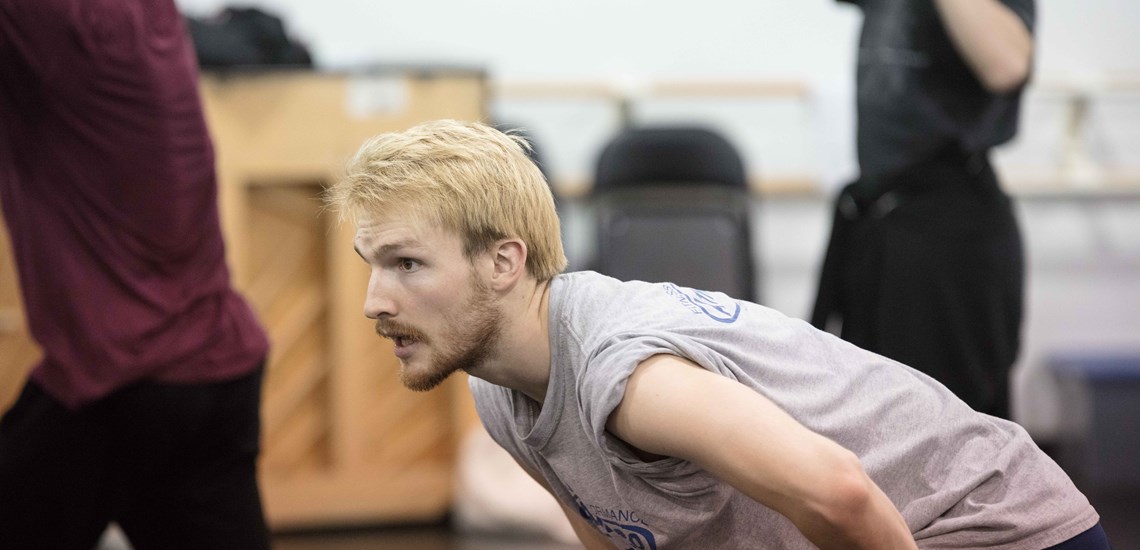 November 20, 2018
From the Choreographer: Florian Lochner's Das Feld 
Hubbard Street Choreographic Fellow Florian Lochner is creating his first piece for Hubbard Street to premiere during danc(e)volve: New Works Festival at the Harris Theater for Music and Dance December 6, 8 + 9. He sat down with us to talk about how he has used the Hubbard Street dancers as inspiration for his piece Das Feld, which is centered around personal relationships and family.


Tell us about Das Feld and where you got your inspiration?
The piece is very personal to me and to the dancers because I created a soundscape using the dancers voices, asking them questions about their lives, some that I am also questioning for myself. The work is about family, relationships, how we connect to one another, and what death means to us. The piece starts with the concept of death and as it goes on becomes lighter and lighter moving into the concept of life.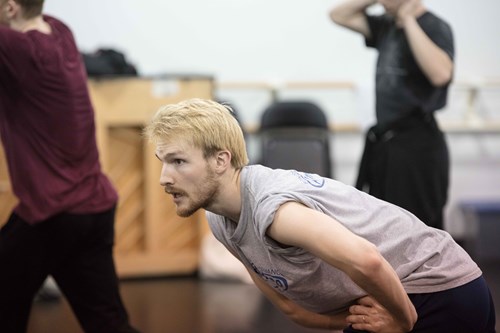 Florian Lochner in rehearsal. Photo by Henry Trinh.
Tell us about the soundscore of your dancers speaking and how you use it in the piece?
I used the timing of the dancers answers for phrases, and the visual image of the audio waves. Their answers were very important for me to create the mood and feeling of the piece. I also picked out answers that spoke to me and my feelings the most and supported what I wanted to say with the piece to use in the score.
Why did you choose the reverse trajectory from death to life in Das Feld?
I think sometimes we are able to sit down more and actually think about death, and we don't tend to do that with life. Sometimes life is too much; there's a lot going on, it's a lot to handle, and we don't understand it. This idea is reflected in the piece; it starts very slow and dark and you can hear the voices in the soundscore very clearly. The piece moves backward creating relationships and families and becomes more chaotic until you can barely understand the voices in the soundscore at all.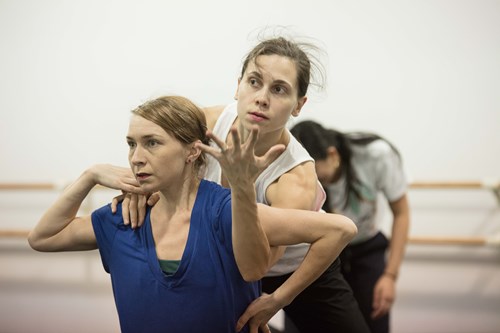 Kellie Epperheimer & Jacqueline Burnett in rehearsal for Florian Lochner's Das Feld. Photo by Henry Trinh. 
What was your choreographic process like?
I went into my process without any set movement. I wanted to go into the studio with the dancers and just see what came out of that. I want to see how the dancers take my movement and tell their own story with it.
You used family trees as part of the structure of your choreography, how and why did you choose to do that?
I looked at a lot of different family trees and used them to create formations on stage out of the relationships. There is also a secret family tree hidden in the piece, but I don't want to reveal too much about it yet.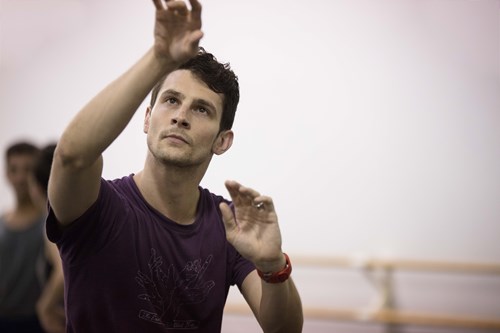 Hubbard Street dancer Craig D. Black Jr. in rehearsal for Florian Lochner's Das Feld. Photo by Henry Trinh. 
What does it mean to you to be a Choreographic Fellow and what have you learned from this experience?
Becoming one of Hubbard Street's Choreographic Fellows is very special to me because I do want to move in the direction of choreography in my career. Choreography isn't something you can just do once a year, you need to practice constantly to be able to find your own voice and choreographic style. As a dancer you don't always have that type of creative freedom so being a Choreographic Fellow has given me more time to create my own choreography and get feedback from Glenn (Hubbard Street's Artistic Director). It is an honor to be a Choreographic Fellow.

See Das Feld along with new works by Alice Klock and Rena Butler during danc(e)volve: New Works Festival at the Harris Theater December 6, 8 + 9. Visit the danc(e)volve webpage to read more about the choreographers, and purchase tickets!