From the Choreographer: Alice Klock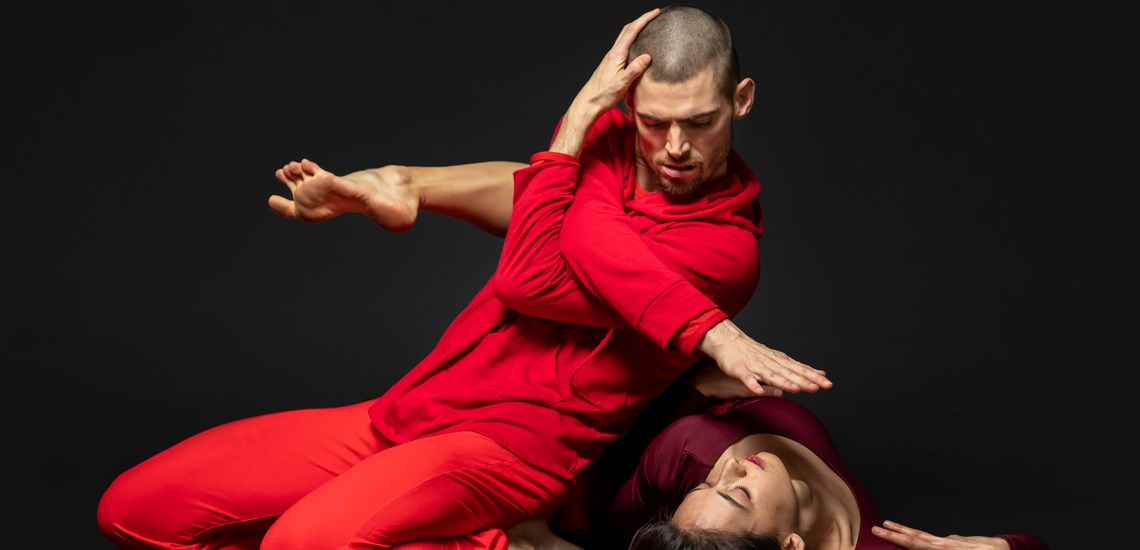 November 28, 2018
From the Choreographer: Alice Klock's Fold Me
Alice Klock's world premiere for danc(e)volve, Fold Me, centers around the idea that we could all exist in different versions across dimensions of time and space. Fold Me plays with the idea of folding the fabric of time and space so that these different versions of self could meet up, and what would happen if they did. We sat down with Alice to learn more about her inspiration, and her quirky dance style. 


What inspired your idea about parallel universes?
My concept started with a conversation I had with my mother about what it would be like to meet an alternate version of yourself. If you were able to meet alternate versions of yourself, how would you interact with them? Would you have advise for yourself? Would you even be able to see yourself? In my piece I play a lot with this idea and the idea of a membrane or separation between worlds.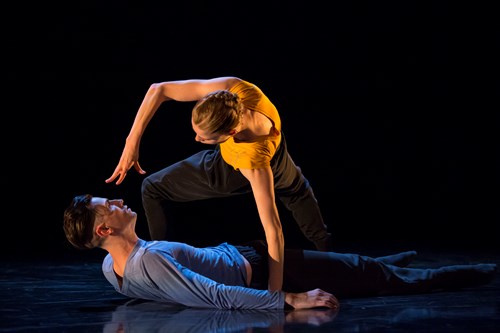 Clan(device) by Alice Klock . Photo by Todd Rosenberg. 
How are you able to convey this idea of meeting yourself in another universe on stage?
Casting worked out kind of magically. I cast my five dancers purely on their movement qualities and personalities because I thought it matched this strange world that I was building. They are all very wild full-bodied movers with a high level of creativity and oddity about them, which I absolutely love and they do accidentally have somewhat of a cohesive look, like they could be refractions of one person.
We also use hoodies to separate out dimensions. Some of the characters have hoodies that they can put on as a sort of protection from slipping into another dimension. The characters without hoodies are almost too aware and unveiled so they can slip into other dimensions. This idea came from when I was younger and had these terrible migraines and I would lose my vision and all these strange things would happen to me and I thought "Oh, maybe I'm just seeing into another dimension."
The process began with asking each of my dancers who they thought they would be in another dimension. I would ask them specific questions like "Do you think you have a family?" and "What is your name?" They had very crazy ideas about who they are and that has given the piece an extra layer of surrealism. From there, I started creating the majority of the movement.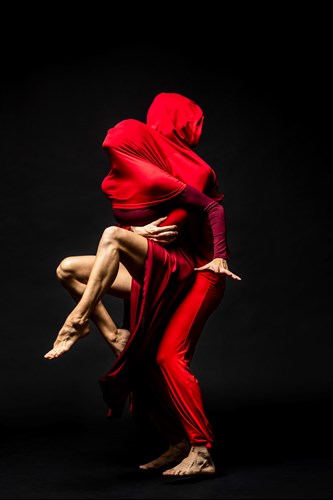 Michael Gross and Adrienne Lipson in a promotional shoot for Fold Me. Photo by Todd Rosenberg. 
How do you come up with your movement? Is it pre-prepared or created in the studio?
I like to create on the spot. It's very important to me that each piece I create is an individualized experience and that it be built off of the dancers I have in the room. I try not to come in with too much pre-conceived material so that it can really be influenced by the movers I have.
Tell us about the costumes?
The costumes are bright red. We have this beautiful grey Marley for the show so I wanted something that would really pop and have this vital, force of life feeling. I didn't want too much cohesion in the costumes, so each character's costume has a slightly different feel.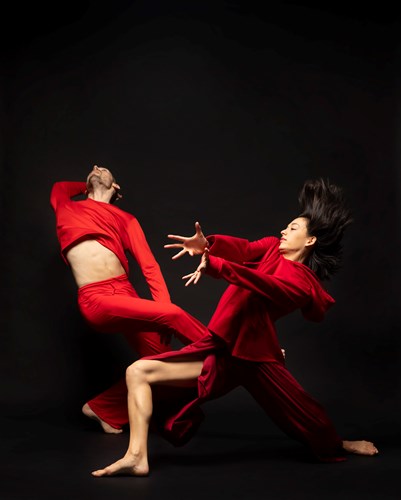 Michael Gross and Adrienne Lipson in a promotional shoot for Fold Me. Photo by Todd Rosenberg. 
Tell us about making the transition from dancer to full-time choreographer and what that transition was like?
Transitioning out of dancing full-time for me so far has been amazing. I have a strange physicality, that now that I've had more time to just do my own movement I am discovering so much more about what
my body can do. As a dancer in a company you fit yourself into these many molds to do all this awesome repertory but you don't have a lot of time to find out what your physicality is. I'm also happy that I stopped dancing full-time while I was still young so I am really able to push my research about my own body and create movement that is more extreme.
How is the process different working with your former colleagues rather than dancers from other companies?
I love travelling and getting to work with people I've never experienced before, who come from really different backgrounds and have very different training. But with that there is always a translation process and figuring out what our common language is. At Hubbard Street, I can skip that whole layer of the process because the dancers and I just speak the same language. I also feel like I can push my weirdness to another level because I don't have to worry about being too much too fast, I can just go for it.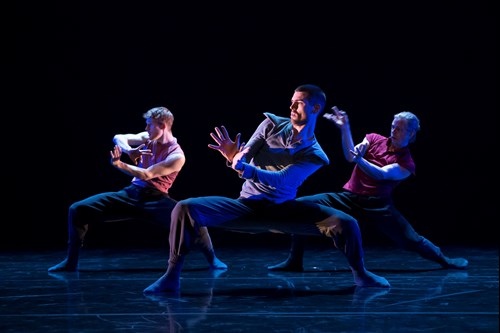 Michael Gross, David Schultz, and Elliot Hammans in Clan(device) by Alice Klock. Photo by Todd Rosenberg. 
Read more interviews with our other two danc(e)volve choreographers Rena Butler and Florian Lochner on the blog and be sure to purchase your tickets for danc(e)volve before we sell out!