Enjoying the Ride with Dancer Abdiel FIgueroa Reyes
November 19, 2019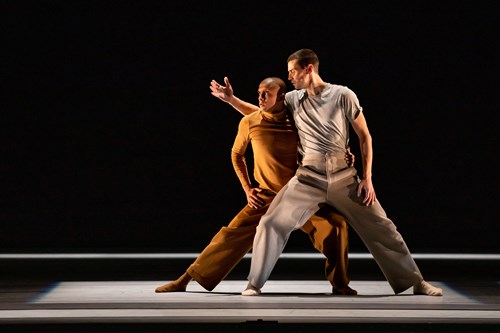 Hubbard Street dancers Abdiel Figueroa Reyes (left) and Andrew Murdock in THE BYSTANDER by Kyle Abraham. Photo by Cheryl Mann Photography. 

Abdiel Figueroa Reyes stepped through the front door to the Hubbard Street Dance Center two years ago as a student in the first ever class of the Hubbard Street Professional Program. What was ahead was a complete unknown. Two years later, Abdiel is beginning his first season as a company member. We sat down with him to discuss his journey from student to apprentice to company member, and what's next for this budding star...
When did you start dancing?
I just turned 21 in May and I began dancing at the age of four, then moved to the United States from San Juan, Puerto Rico when I was 11 and started dancing professionally when I was 15. My whole family moved to the U.S. so that my brother and I could pursue careers as dancers.
Where did you train growing up, and how did it lead you to Hubbard Street's Professional Program (HS Pro)?
I started training more seriously at my high school, Las Vegas Academy of Performing Arts, as a dance major as well as training at the Rock Center for Dance, which is more of a competition based studio. My mom and my aunt owned a dance studio in Puerto Rico so I trained there as a child before moving to Las Vegas. It's always been in my blood.
In the summer of 2017 I went to AXIS CONNECT, a summer intensive connected with the Barton sisters, where I was introduced to a friend of Alexandra Wells, Hubbard Street's Director of Artist Training. Once I got to talking with Alexandra about the program and found out that a friend, Dre (HS Pro alumni and Charlotte Ballet 2 dancer) was also joining HS Pro, I became interested and decided to come!
Why did you choose HS Pro over any other training program?
I joined during the launch year and was part of the first class, so I wasn't sure exactly what I was coming into, but right away I found out we would be working with Peter Chu, who does a lot of work in Las Vegas, and that we would get to interact with the company. I just went into the program really open, and once I got here I really enjoyed what I stepped into.

Abdiel Figueroa Reyes in rehearsal with HS Pro in 2018. Photo by Todd Rosenberg. 
Who have been some of your favorite choreographers and teachers to work with in HS Pro?
Of course the one and only Alexandra Wells, for starters. When the program started my first year we began rehearsing with Peter Chu to go on stage with the company for Space, in Perspective right away and that whole experience was surreal. We also worked with Peter again last year, on Broken Systems again and again and again. Even when Peter is in the studio as the teacher and choreographer, he is able to connect with us on such a human and personal level. The way he is able to give his information so honestly and genuinely makes the process so much more valuable.
Some of my favorite technique teachers have been those connected to the company like Claire Bataille and Sarah Cullen Fuller. Choreographically, I really enjoyed working with Elia Mrak as well. He taught us Qi Gong and his Flying Low technique.
What has your transition from student to company member been like?
After I finished my first year of HS Pro, I got the opportunity to work as an apprentice while also taking HS Pro classes for my second year. It gave me the chance to continue my training while still being in a professional setting. Stepping into the studio in August as a company member, it felt like I had never left. It was a lot easier transition since I was coming into an environment that I was already comfortable with.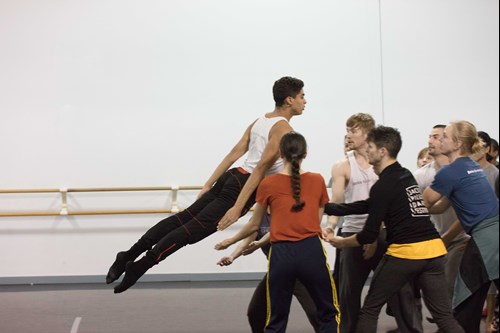 Abdiel Figueroa Reyes in rehearsal as a Hubbard Street apprentice. Photo by Henry Trinh. 
So far, what's been your favorite piece from Hubbard Street's repertoire to perform or choreographic process with the company?
I'm very excited to be re-visiting Space, In Perspective this summer for the Boundless performances and I also really enjoyed working with Rena Butler in III.Third last season. But overall, the experience of meeting Ohad Naharin and working on Decadance/Chicago was beyond my highest expectations. Learning the Gaga technique from stagers Rachel and Ian who had an amazing energy and getting to learn the whole evening-length work with the company was really fascinating.
What else are you looking forward to this season with Hubbard Street?
I've never worked with Kyle Abraham so I'm looking forward to that process for the Forge Forward performances. As an apprentice I got to learn a snippet of Crystal Pite's A Picture of You Falling and I can't wait to even just be in the studio learning it as a cover, it's very raw and a piece that really speaks to me.
What have been some of your biggest takeaways from HS Pro and from watching the company dancers?
From HS Pro, I learned so many different techniques and values from the many choreographers and teachers brought into the studio. It is so important to be open to all of those experiences and ideas and it was great to be able to connect with everyone in the studio in those ways.
My biggest takeaway from the company dancers is the way that they take care of each other, the support and the sense of community that they have. Essentially, they are a family. They make working together understandable and comfortable and give each other the space to be able to feel accepted and bring your whole self into the studio.
What has been one of your struggles so far in your dance career?
Starting my dance career on my own and moving to a whole new city where I didn't know anyone for HS Pro was difficult. The uncertainty of it can be a little uncomfortable and nerve-wracking. In my first two years here, that sense of discomfort kind of came and went as I was trying to figure out what I was doing here and how I belonged.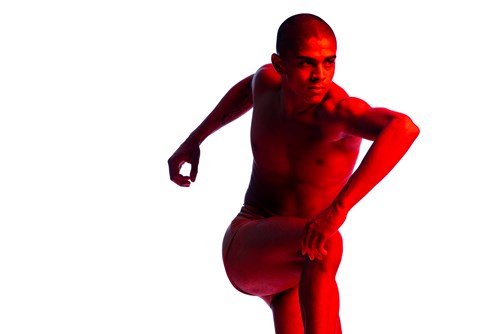 Abdiel Figueroa Reyes in a promotional image for Forge Forward. Photo by Todd Rosenberg. 
When did you know that you wanted dance to be your professional career?
I was born and raised with dance in my blood from my mom and aunt who were ballerinas in Puerto Rico. That artistry has always been in my family and I feel like I've always had this rhythm about me. Whether it was dancing in the grocery store or in my room, dancing has always made me feel good and I never really ever wanted to stop doing it. I've always had a passion for dance and following it just felt right.
What does your family think about you joining the company? Have they always been supportive of you?
All of them were super stoked. My move to Chicago was hard on all of us because I had never really been away from my family. When I decided to join HS Pro we had about a month before I moved to Chicago to pull together the finances and they were so supportive; putting together garage sales and helping host workshops at the Rock Center. I feel very fortunate that I've always had very supportive family and close friends, it's never been something I've had to struggle with.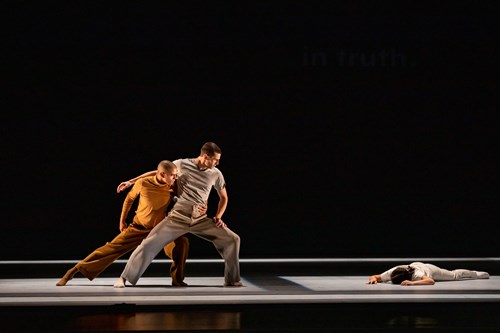 Hubbard Street dancers Abdiel Figueroa Reyes (left) and Andrew Murdock in THE BYSTANDER by Kyle Abraham. Photo by Cheryl Mann Photography. 
What are your goals at Hubbard Street and beyond?
Hubbard Street provides so many opportunities and I'm just very open to anything that comes my way. I'm early on in my career and I just want to be sponge and take in everything that I can. My biggest goal is just to continue to grow as an artist, and I have so much already in the past two years. It's funny that you don't necessarily realize all this change has happened until the process in over and you realize 'oh, I didn't used to work like that, or think like that, or feel like that.' I look forward to seeing how influential this company can be as an artist but also as human.
What advice would you give to young dancers who hope to have the same career trajectory as you?
I think my advice would be to be open, completely present, and true to yourself in whatever process you are working in. The results are always much more fulfilling when you work that way. Just enjoy the ride and take in everything that comes your way, even those struggles and low moments.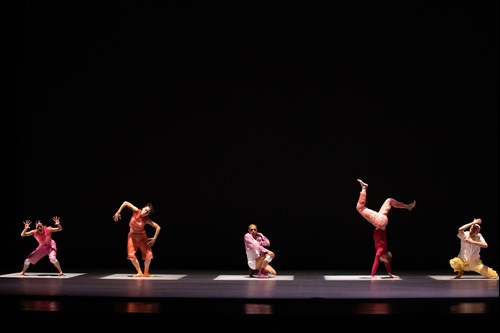 Hubbard Street dancers Abdiel Figueroa Reyes (center) in THIS, THAT, AND THE THIRD by Rena Butler. Photo by Cheryl Mann Photography. 
Learn more about Abdiel and his journey by visiting his dancer page, and learn more about how to audition for HS Pro by clicking here.