Dressed to Dance with Adrienne Lipson
October 29, 2019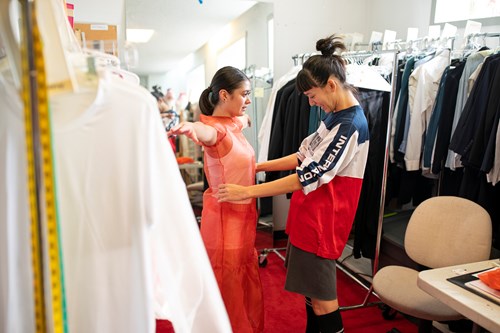 Adrienne Lipson (right) fits Alicia Delgadillo in the Hubbard Street Dance Chicago costume shop. Photos by Todd Rosenberg. 
What do dance and costume design have in common? A lot more than people realize, according to Adrienne Lipson, Hubbard Street company member and rising costume designer. "Both mediums of art are very physical and require a lot of practice. You can be theoretical about your ideas, but at the end, you have to get something physical out," said Adrienne.
Adrienne began her artistic journey at her arts elementary school in her hometown of London, Ontario. The school provided an overview of different artistic mediums, ranging from drawing to dancing. "I could get by drawing, singing, or acting at low levels from that education. Different artforms interest me, but I do not have any formal art or design training besides just things I have picked up on," she said.
Fast forward to her adult life, well into her professional career as a dancer, Adrienne is returning to her roots in experimenting with different artforms. Rena Butler, a fellow company member and choreographer of This, That, and the Third which premieres this November for Forge Forward, asked Adrienne to design the costumes for her piece.
"I don't think I would have volunteered for the position if Rena was not so encouraging," Adrienne said.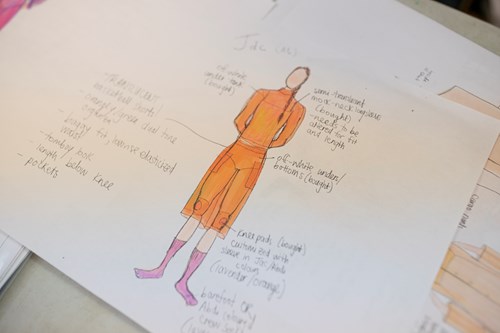 She first designed costumes last year when she had the role "wardrobe supervisor" for the company's in studio performance, Inside/Out. After designing for Inside/Out, Adrienne realized that design was something she wanted to explore more, and helped her colleague, Connie Shiau, design a costume for her recent solo, 108. 
This fall, Adrienne took on a greater responsibility and design costumes for a larger, more comprehensive piece, Rena Butler's This, That, and the Third. "The piece is about how, as individuals, we share space. From there, you might see ways of switching in and out of who you are, where you come from, versus how you have to adapt to a new space," Rena said.
Adrienne personalized the costumes for each dancer to celebrate their individuality. "Dance can be rigid when it comes to gender roles, but people are too complex for that," she said. "I want the designs to honor the differences within each and every one of us and break the traditional views of femininity and masculinity." She collaborated heavily with Rena, always running ideas by her in order to stay true to her vision.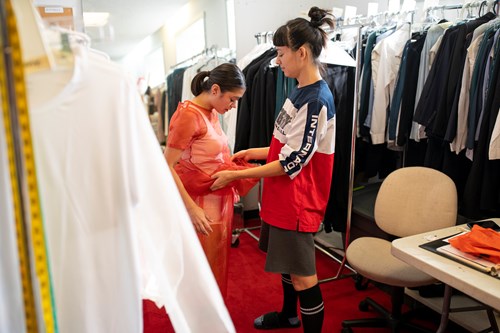 When it comes to the inspiration of the designs, Adrienne turned to the world around her.
"I take a lot of inspiration from the people around me, like street style and dancers in the studio, because I think dancers have a great sense of style. I love the layering that is involved, and the look of baggy clothes on physically fit bodies," Adrienne said. "When creating the looks, I tried to mimic what I see my colleagues wear so I knew that they would be able to move in my designs." 
 Adrienne created a mood board of different Chicago painters, street artistics, musicians, and designers to draw inspiration from. She gravitated towards bright and bold colors and ultimately chose to use the color pallet on Chance the Rapper's cover for his first mixtape Acid Rap, the album in which some of the music in This, That and the Third is from. "I wanted to reflect the message of the piece and celebrate Chicago, Rena's hometown," she said.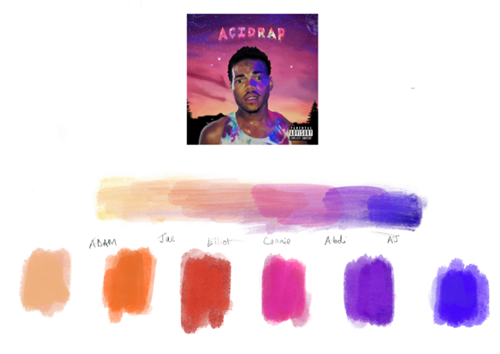 Adrienne's palette and the cover of Chance the Rapper's ACIDRAP. Artwork by Brandon Breaux. 
Adrienne and Rena will both have their art, in addition to their own movement, on display at Forge Forward. Adrienne is unsure when she will design again, but it is something she hopes to do more of in the future. " I am still very much involved with dance, but I am finding that being involved with design is also pretty amazing," she explained, reflecting on her experience thus far. "It is very empowering to have so much creative control and have so many people trust me."
See Adrienne's designs come to life in Forge Forward premiering November 7, 9 + 10 at the Harris Theater. Tickets are available online, get yours today!