IN CONVERSATION: THE OTHER YOU
May 1, 2019

Hubbard Street Dancers Andrew Murdock (left) and Michael Gross in Crystal Pite's THE OTHER YOU. All photos by Todd Rosenberg. 
The Summer Series is quickly approaching and we sat down with dancers Andrew Murdock and Michael Gross to take a deep dive into Crystal Pite's The Other You, part of the Summer Series program at the Harris Theater for Music and Dance June 6, 8 + 9.
In your own words, what is The Other You about?
Michael Gross (MG): To me, the piece is about the balance or in-balance of two sides of one person, whether it be the animalistic instinctual side versus the calculated, educated side or anger versus happiness, and how those interactions happen.
Andrew Murdock (AM): I think I often feel this duality that Mike is talking about, about the emotional versus intellectual sides in myself, or even light and dark in this piece. Some of it is comedic, some is tragic, but mostly this piece is very reflective. I remember the first time I saw it thinking "I do that. All the time. And I don't know anybody who doesn't."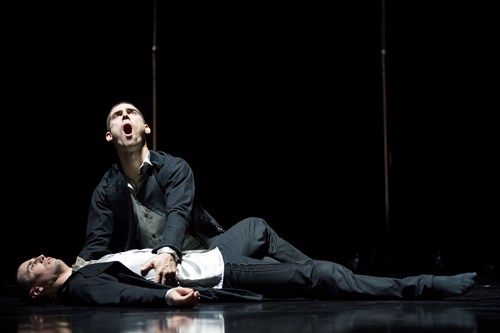 How does the music play into this piece?
MG: The first 10 minutes of the piece is a soundscape that has dogs barking, cars honking, sounds of the street, and sounds of a forest. It feels like an honest journey into your mind, more than a dance.
AM: In the beginning, we see the character(s) building himself up and tearing himself down to get to something purer. Then the switch into Moonlight Sonata, which is obviously a very well-known piece of music brings sort of a sense of purity or relief. Crystal is very masterful in her way of physical storytelling and how that is demonstrated by the music. She does a great job of setting up that very recognizable and epic music. There's something really satisfying about it.
How do you interpret the relationship between the two of you when you are dancing this duet?
MG: We are definitely two facets of the same person. When I'm dancing I have to really tune into what Andrew is doing but also not let myself get too caught up in it. I try to be the yang to his ying.
You two are currently the only cast performing this work, what's it been like to learn and perform it together?
AM: This rehearsal process with Eric Beauchene and Crystal has been about developing a strong mind connection between Mike and I, which meant taking a long time to build the relationship and being extremely specific. For us it's been a great piece of work to work on. You can sort of just dig forever into it.
MG: We're constantly nitpicking things to try to make them as real and honest and authentic as possible. Sometimes we know each other is thinking or even show up to rehearsal dressed the same by accident. I imagine it like people who play twins in a movie, there's a little bit of method acting to it.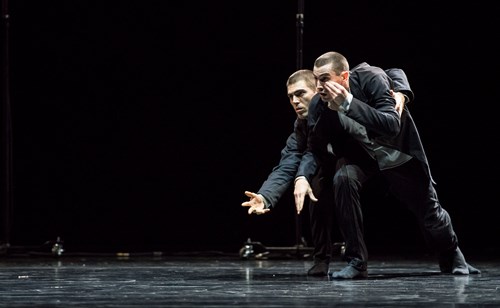 You both performed The Other You at the Dance Magazine Awards earlier this year, and now will be performing it to represent Crystal at the Benois de la Danse Gala at the Bolshoi Ballet in Moscow on May 21. What's it been like to be able to represent Crystal at these types of events and performances?
AM: To be a part of these larger celebrations is really fun, it's very cool to get to see other snapshots of what's happening in the dance field from around the country and around the world.
MG: It's so surreal. There's an immense amount of pressure, but it doesn't come from Crystal. Whenever we see her she has complete trust in us. But we are representing ourselves, Hubbard Street, and Crystal who is like the Beyoncé of the dance world. It's an extreme honor and very humbling to be invited into her circle.
Catch Mike and Andrew on stage performing The Other You during the Summer Series performances June 6, 8 + 9 at the Harris Theater for Music and Dance. Learn more and purchase your tickets here.