Baby & Me: A New Class for Newborns
August 27, 2019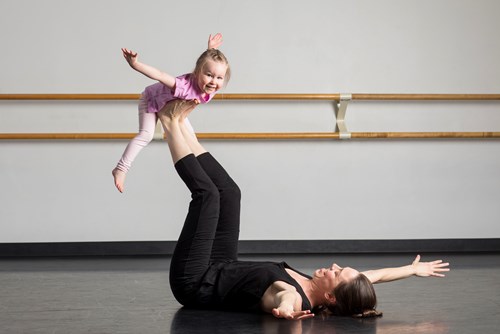 Having a new baby in the house can be quite the challenge, but Hubbard Street is here to help make the first 12 months a fun and exciting time for bonding! Our new Baby and Me classes will offer a variety of benefits for both kids and adults! We caught up with instructor and mom herself Anne Kasdorf to find out more about these exciting new classes.
Can you give us a little background on yourself and your new role at Hubbard Street?
I've been a teaching artist at Hubbard Street for several years, took on the role of Early Childhood Faculty Head two years ago and will now concurrently oversee the Adaptive Dance program.
Why are Baby and Me classes something that new parents should register for? What are the benefits?
The great thing about this class is that the kids and adults will both reap the benefits! We'll do some baby-focused activities that encourage bonding and support development but also make time for some intentional strengthening exercises and recuperative breath work. It'll also be a chance to engage with other new parents who are right in the thick of it too.
Can you walk us through what a typical Baby and Me class will look like?
With such an enormous amount of growth and development that occurs from 0-1, the needs of each child and caregiver will likely be pretty broad. The class will aim to make room for feedings, fussiness, new/persistent crawlers and all the other adventures thrown a parent's way!
The one given will be weekly practice of the BrainDance warm-up utilized in many of our Youth Program classes. With movement exercises that mirror the developmental patterns that we learn in sequence during infancy, the practice couldn't be more valuable to our youngest dancers. The series incorporates gentle massage, a bit of tummy time, some songs and much more all to benefit organization of the central nervous system. And it's such a sweet way to bond with your little one!
How do Baby and Me prepare children for future dance classes?
Any chance to bond and move with baby serves that child's ongoing growth, and it's never too early to promote positive body relationships.
What are you most excited for in our new Baby and Me classes?
I'm so excited to offer a movement experience tailored to the well-deserving adults in the room! That first year is such an intense time. I'm so glad we're offering parents a fun and relaxed chance to watch their babies grow and change.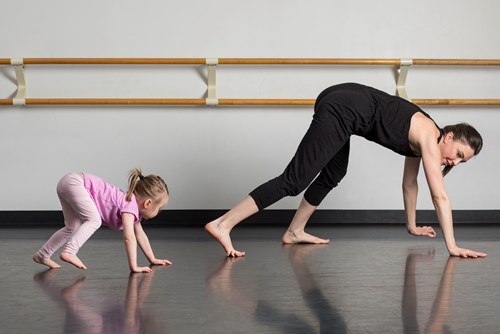 Baby and Me classes begin September 3. To see our full schedule of Baby and Me and other Early Childhood classes and register, check out our classes webpage.