A Mystery at Play: A Closer Look at Kyle Abraham's New Work
October 24, 2019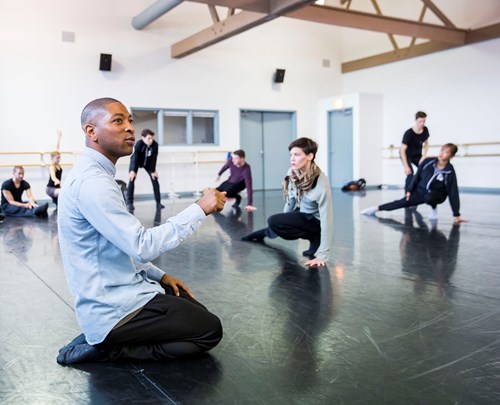 Rehearsal for Kyle Abraham's COUNTERPOINT (2014) with Hubbard Street Dance Chicago. Photos by Todd Rosenberg. 
For the month of September, Hubbard Street spent the month in scenic Jackson Hole, Wyoming, for a residency at Dancers Workshop for the commission of a new work by choreographer Kyle Abraham. We sat down with dancers Elliot Hammans and Andrew Murdock, cast in Abraham's new work The Bystander to discuss the theme, music, and the creation process.
HSDC: Can you describe The Bystander and the inspiration and theme?
Andrew Murdock (AM): There is a mystery at play, and there are themes of accusation, observing conflict and placing blame. We are seeing a conflict and how the different perspectives of the people observing and involved plays into the solving of the mystery. Kyle told us about this scenario where his mother, who is a school principal, would have two students in the counselor's office trying to hash out a conflict and often times the guilty party would be confident and calm and the innocent one would be so nervous that they would appear guilty. There's a little bit of that injected into the piece; the idea that assumptions are made about whether someone did something without actual evidence. It also plays a little bit into today's political climate, and placing blame based on environment and circumstance rather than actual knowledge of the individuals and events.
Elliot Hammans (EH): The piece is playing with this perception of truth. We all perceive it in different forms and fashions, and that can create tension, but it can also resolve conflict and beget further understandings of human nature.
Each dancer plays a specific character in this piece. What are the characters you created like, and how did you create your backstory for them?
AM: This piece in particular was a lot of character work and acting. We came up with our own characters, and invented backstories about their relationships to one another so that there's reason to interact with each other based around this central idea of "a game of Clue." My character, regardless of the backstory, is a protector. There's fear involved in that, and my character isn't quite able to figure out the best way of letting the truth out.
EH: It's kind of fun to build a character based on yourself or an alternate version of yourself, so I started there and then went absurdly far with it. My character is the victim, and the backstory that I derived helps explain why I am the victim and what choices I made that led to my demise. In the piece, there is one character, played by Alysia Johnson, that is this bystander who witnesses the truth and is unable or doesn't know how to speak to that.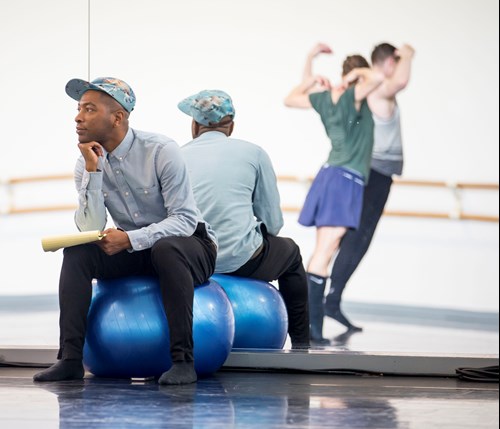 How did all of this acting and character work fit into the choreographic process?
EH: Through the process we played a lot of games involving improvisational tasks and Kyle had us write stories to discover more about our characters and that helped to develop the language of the piece.
AM: We tried a lot of different orientations of this piece, we did a lot of switching roles, none of them are gender-specific, and learning from each other. It felt like we were in an acting class half the time, which was very fun.
How would you describe Kyle's movement style?
AM: A big part of Kyle's process is how his improvisational impulses are translated on other bodies. The way that Kyle comes about movement invention is that he would videotape himself improvising and we would watch the videos and learn his movements, then we would take that material and piece it together to make solos, duets, and trios and start to build scenes. Kyle is quite specific in what he sees in his mind and has a very specific movement language, but is open to another individuals' interpretation and there is a lot of space for choice.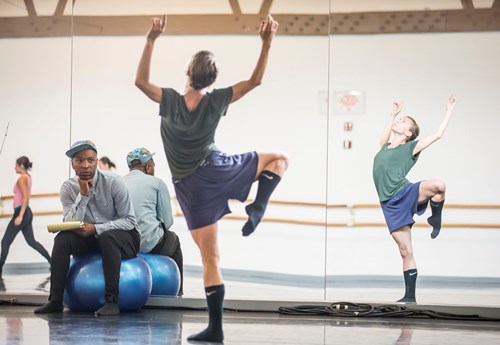 How did working on this piece in Jackson Hole, rather than Chicago, change or impact the work?
AM: The process was very focused. We were there for a specific reason and the actions of everyday life at home were removed. Many times, at home in Chicago, we are working on multiple things simultaneously and this was really a directed, purposeful trip. And also it's a beautiful part of the world. It was great to be able to find a minute to escape to go hiking or climbing or go to the lake.
EH: Being there all together really made everyone available to play in an open and generous way. Most of us were living in the same house, so it was fun to be working on this game of Clue piece and then going back to the house and something happening and being like "Oh, who done it?!" It was a very close study of our own intrapersonal relationships that also sort of found their way into the work.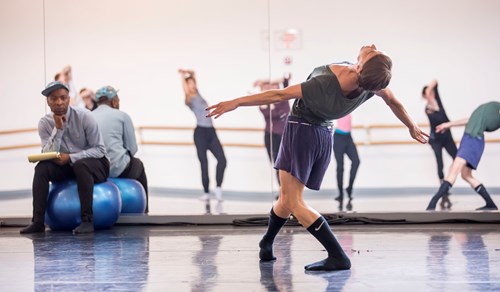 How does the German leder music used in the work relate to the dance?
AM: First of all, it's beautiful music and beautifully crafted. Because of the level of drama in the music and vocals, it draws a little bit of the humor of the work forward. It is a little bit outlandish, and intentionally overly dramatic.
EH: The music is more of a world-building tool and it really compliments Kyle's very fast and dense material nicely in terms of how we relate to the speaking and singing voice and also the complex structures within the score.
How do you think this work fits into the rest of the Forge Forward program?
AM: It's a pretty varied program, nothing is really alike. Working with Kyle on this piece was fun and totally collaborative, which I think is where art making is trending. There's something interesting in that there's different mini-worlds being shown with each of the choreographers. Rena Butler is at the beginning of her professional choreographic career, Kyle is somebody who has been building work for quite some time and has his own company in New York, and Crystal Pite is more of the veteran choreographer and somebody that is always pushing. Hopefully the program as a whole comes across as something that is pushing forward, like three different chapters by different authors, but all in the same book.


Forge Forward premieres at the Harris Theater for Music and Dance on November 7, 9 + 10.  Purchase your tickets on our website today!