A Day in the Life of an HS Pro Dancer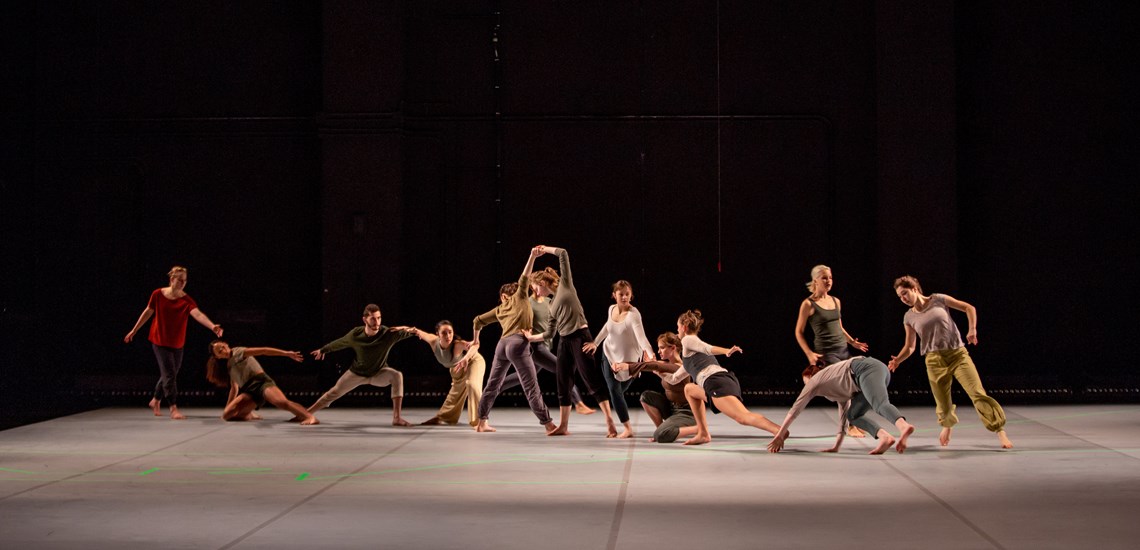 January 17, 2019
A Day in the Life of an HS Pro Dancer 
Hubbard Street Professional Program (HS Pro) dancer Anthony Milian takes us through a typical day as a student with Hubbard Street from class, to rehearsals, and everything in between...
Wake up. Eggs. Coffee. Wash face. Brush teeth. Maybe roll out just a bit. Run outside, catch the bus, and before you know it, I'm walking into the studio of Hubbard Street Dance Chicago to start my day.
 I walk through the front door, and see senior company member Kellie Epperheimer. We greet each other with a spritely 'Good Morning' and 'How are you?' as we continue walking towards our respective destinations. Kellie and I are both a part of the cast of Florian Lochner's Piece, Das Feld, for the company's danc(e)volve program at the Harris Theater and I won't see her again until rehearsal later in the day. The HS Pro dancers are extremely fortunate to have the opportunity to work in rehearsals alongside the company members for this performance, and it is absolutely one of the highlights of being an HS Pro dancer.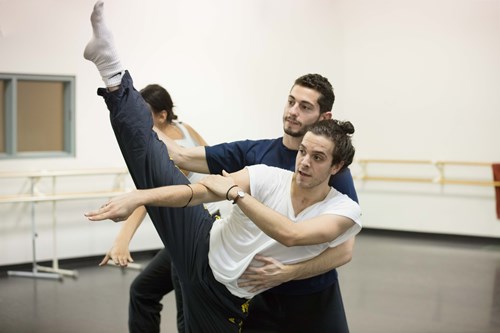 HS Pro dancers Anthony Milian (blue shirt) and Nicholas Garlo. Photo by Henry Trinh. 
I carefully choose a barre spot and lightly warm up before ballet class with Director of Artist Training, Alexandra Wells, begins. We always begin Alexandra's class with her principles from ImageTech, a technique designed by Alexandra herself to properly prepare dancers for technical execution in any style. It was a tough class today; as the end of the semester approaches, Alexandra is beginning to challenge us more technically and push us to a higher professional level. After finishing class, I have a short break before starting class with Jonathan "Jojo" Alsberry, just enough time to rest and have a small snack to keep me energized through the morning.
In Jojo's class, we start with a short contemporary warm up, to shake the singularity of ballet out of our body. Classes are separated by first and second years, and the first years spend our class time rehearsing pieces for our Outreach performances next semester. We are doing a performance tour in the spring to over 20 different schools in the Greater Chicago Area, where we are performing an hour length show. Today, we are finishing one of the solos from PACOPEPEPLUTO by Alejandro Cerrudo. Our show also includes a piece by Movement Art Is duo Jon Boogz and Lil Buck, which was set on the main company for their 2018 Fall Series. Next semester, we will finish our hip hop piece by Boom Crack Dance Company, as well as start and finish a new work by choreographer Peter Chu.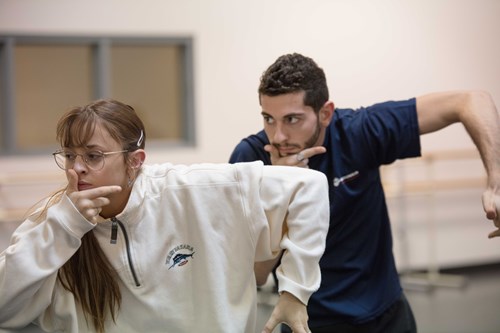 HS Pro learning Hubbard Street Dance Chicago repertoire. Photo by Henry Trinh.
After lunch, it's time for the main event of the day, rehearsals with the company dancers for danc(e)volve. The HS Pro dancers have been separated into two different casts, one group with Rena Butler, and the other with Florian Lochner. This is my favorite part of the day, as we get to dance alongside and watch the company as they work. The HS Pro dancers are instructed to work as understudies, and today, I get the chance to understudy Elliot Hammans for his solo, which includes a lot of intricate and athletic maneuvers. Regardless if I am ever to perform this piece of movement on stage, having the privilege and opportunity to have a company member to teach it to me is a true gift in itself. Rehearsal comes to an end, and Florian is swarmed with a mass of HS Pro dancers thanking him for his time. We all express our gratitude and head into the lounge before heading out for the evening.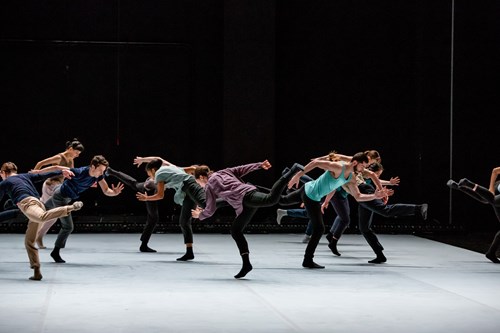 Anthony Milian and fellow HS Pro dancers onstage with Hubbard Steet Dance Chicago at Winter Series 2018, performing Florian Lochner's DAS FELD. Photo by Cheryl Mann. 
 A few of the other dancers and I have plans to grab sushi in Logan Square. After getting off the blue line train, we stop to grab a bottle of wine for dinner, make jokes, and debrief about the day. Over food, we tell each other about our individual rehearsals and are dying to see all of the pieces. Before I know it, I'm heading home to shower and hop in bed before another intensive and vigorous in the Professional Program, but I'm beyond excited to do it all over again tomorrow.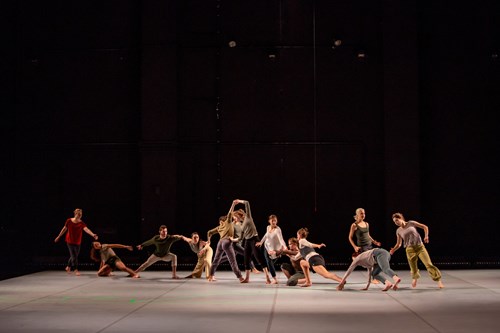 Members of HS Pro perform COMMON THREAD  (choreorgraphed by Rena Butler and Florian Lochner) at The Harris Theater for Music & Dance in Chicago. Photo by Cheryl Mann. 
 Want to learn more about the Professional Program (HS Pro) and how you can become a part of this amazing program? Visit our HS Pro webpage and pre-register to audition in San Francisco, New York, or Chicago this winter!