In-School Programs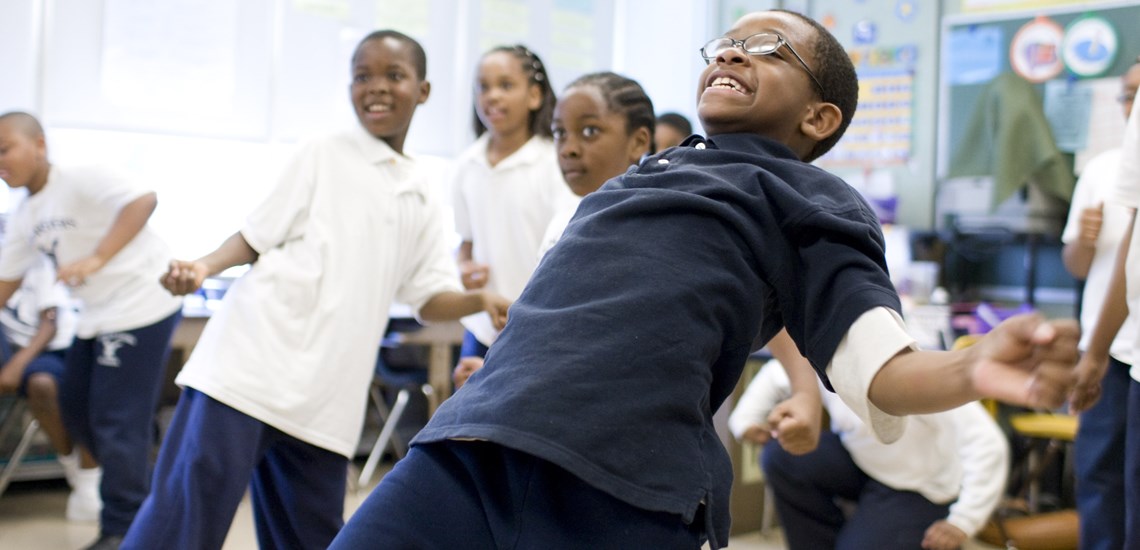 Schools are spaces of transformation.
Dance is the language of transformation.
Hubbard Street Dance Chicago offers residencies and workshops for students to explore contemporary dance and choreography, develop their creativity and problem-solving skills, deepen their analytic and abstract thinking, create connections to other areas of study, and learn about themselves and from one another. All while having an incredible time.

Residencies are typically 5-20 classes and include opportunities for student performance and faculty professional development. Schools may choose a residency theme from the options below or work with our team to develop a program that suits your students' unique learning goals. Pricing begins at $125/class, with discounts available for volume, as well as grant opportunities. Hubbard Street is a Board Certified CPS Vendor. Check out all our partner schools on the ArtLook Map!
Curriculum Samples
Literacy and Dance are natural partners, as they have parallel processes. Students will learn to read dance as text and become the authors of their own work as they build skills in both domains.
1. Creating Context
Building inference skills through dance, students will view, develop and interpret literature and choreography to support inference proficiency.
2. Exploring Character Traits
Using dance vocabulary, students grow their ability to analyze character traits. Embodying character traits encourages students' understanding of looking for evidence and communicating intent.
While all of our residencies build students' SEL skills, these have specific focus on CASEL's core SEL competencies – self-awareness, self-management, responsible decision making, relationship skills, and social awareness.
1. Dare to Fail
Success involves risk, and failure is a part of learning. Through the lens of famous failures, as well as explorations in choreography and movement generation, students explore the concepts of effort, struggle, perseverance, and risk-taking.
2. Creative Choreography
Focusing on building student voice and agency, while expanding their skills in collaboration, students will adapt repertoire from Hubbard Street Dance Chicago, using their own experiences to choreograph and perform a dance that is meaningful to them.
Jump start your science curriculum and turn your classroom into a dance laboratory.
1. Force and Motion
Examine simple machine principles and cause-and-effect through improvisation and choreography. Students will gain deeper insight into the relationship between force and work, input and output.
2. Our Changing Earth
Investigate how wind, water, gravitational, and biological forces cause weathering and erosion to our environment. Using movement and choreography as a lens, students will brainstorm and explore the different outcomes from these forces of change."
3. Conceptual Learning
Give your students new insights into familiar concepts like pattern, sequence and compare/contrast through dance and movement exploration.
1. Harvesting Hope
Inspired by "Harvesting Hope: The Story of Cesar Chavez" by Kathleen Krull, this residency addresses the importance of community, the struggles of immigration, and how to embody teamwork and leadership.
2. The Harlem Renaissance
Inspired by the Harlem Renaissance, explore how art, culture, and dance mirror society. This residency builds on concepts of how art reflects life, and how artists depict their experiences. Students will brainstorm contemporary issues and how they will share them through dance. This unit is designed to work in collaboration with a Visual Arts or Music teacher in the school.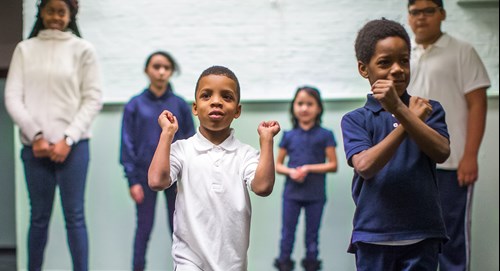 "My students are really taking ownership of their choreography… They are gaining confidence and it's wonderful to see. Even my most reluctant students are dancing and enjoying it."  -  CPS School Teacher