High School Programs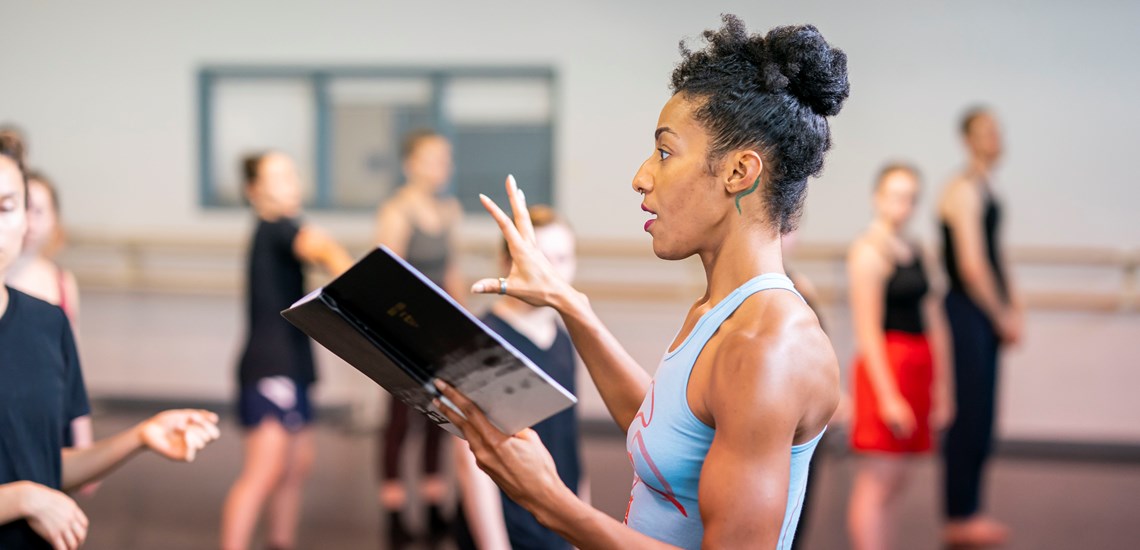 Dance Lab
Dance Lab is a series dance composition workshops designed to engage students in exploring and structuring human movement and gesture as a way to make art, develop creative problem-solving skills, explore and enhance embodied approaches to observation, analysis and communication, and learn how to work collaboratively.
Who is Dance Lab for?
Dance Lab is for Chicago-area high school students with an interest in dance and choreography, with a focus on developing the next generation of female leaders and leaders of color. It is open to students with any background and is appropriate for dancers, movers of any kind, those seeking to work creatively in other arts or other disciplines, and those who want to play and invent.
What will students learn in the course?
Students will be introduced to improvisation as a tool for researching and sketching choreographic ideas; engage in movement exercises, view live and filmed work, and participate in discussions that help to sharpen visual analysis and kinesthetic responses as they explore models for open and productive reception and response to their own work and the work of others. The course includes required readings and viewings but focuses primarily on monthly movement workshops, including solo and collaborative explorations. By the end of the course, each student will have learned how to choreograph and compile a 1.5-3 minute dance work, with a paired researched project investigating the work and process of a choreographer currently working in the field. Both the project and the solo will be presented at the end of the course.
What will students receive at the end of the course?
Students will receive the Dance Lab Choreographic Certificate, as well as the opportunity to perform their works for friends and family.
Who is teaching the program? What works will be viewed and discussed?
Dance Lab is led by Hubbard Street Choreographic Fellow Rena Butler and Director of Education Kathryn Humphreys. The course will be taught primarily by Rena, with guest teachers to include Kathryn, Eboné Lewis, Connie Shiau, and Robyn Mineko Williams. Studio performances by Hubbard Street Dance Chicago, as well as tickets to Harris Theater performances comprise the live performance and will feature work by Rena Butler, Connie Shaw, Ohad Naharin, and Peter Chu. Dance film will include works by Camile Brown, Crystal Pite, and Kyle Abraham. What are the program dates?
Where are the workshops held?
All workshops are held at the Hubbard Street Dance Center, 1147 W. Jackson Blvd.
What's next?
·       Applications Due by December 6, 2019  -  APPLY NOW
·       Dance Lab Choreographic Fellows Workshops
               January 17, February 14, March 20, and March 27
               5-8PM, Hubbard Street Dance Center
·       Choreographic Fellows Performance  - Pefrormance Date TBD
Workshops & Masterclasses
A variety of workshops and masterclasses are available for High School Dance Programs featuring our world class faculty, as well as company dancers as available. Contact education@hubbardstreetdance.com for booking and additional information.