Events and Workshops
Peridance Workshop/Audition Chicago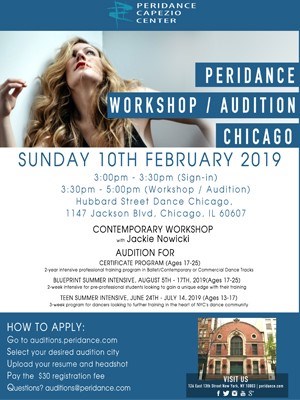 Sunday, February 10, 2019
3PM-5PM
Peridance Capezio Center will hold a class for students who might be interested in auditioning for the following programs:
* The Certificate Program (Ages 17-25) 2-year intensive professional training program in Ballet/Contemporary or Commercial Dance Tracks
* BLUEPRINT SUMMER Intensive, August 5th - 17th, 2019 (Ages 17-25) 2-week intensive for pre-professional students looking to gain a unique edge with their training
* Teen SUMMER Intensive, June 24th - July 14, 2019 (Ages 13-17)
3-week program for dancers looking to further training in the heart of NYC's dance community
 In addition, the class will be held as a workshop class, so everyone is welcome to experience a contemporary class with Jackie Nowicki, whether or not they are actually interested in auditioning.
They offer a limited number of full and partial scholarships, determined at the time of the audition. If applicable, the dancer will be informed of the amount of the scholarship in their acceptance letter.
Register at auditions.peridance.com
Website: auditions.peridance.com
E-mail: auditions@peridance.com
Phone: (212) 505-0886
BollyGroove Cardio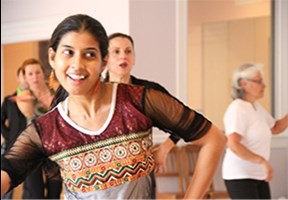 Monday- 7:00-8:00 pm
Wednesday- 6:30 - 7:30 pm
$15 per class
Unlimited Passes Available - Please refer to bollygroove.com for pricing
A total body workout with fun and meaningful Bollywood dance moves. Whether you secretly dance to Jai Ho or have never heard of Bollywood before, you will enjoy an hour of boundless fun while you get a great workout in this class.
BollyGroove Cardio is a combination of joyous Bollywood music and dance/cardio moves that can burn up to 700 calories. BollyGroove will de-stress you like nothing else (you'll have trouble wiping off that grin!) and teach you fun and theme-appropriate dance moves to Bollywood hits.
Absolutely no prior experience needed! Our biggest joy is to watch the incredible mix of people taking our classes.
Experience the Healing Benefits of Reiki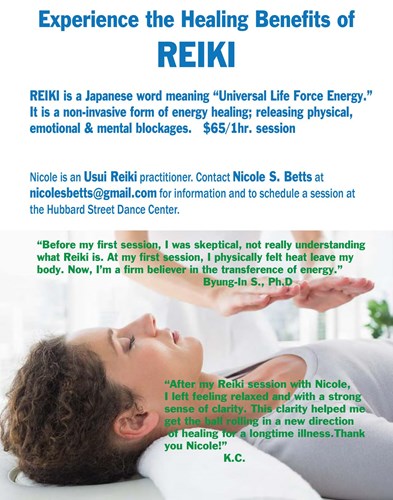 REIKI is a Japanese word meaning "Universal Life Force Energy." It is a non-invasive form of energy healing; releasing physical, emotional & mental blockages.
$65/1hr. session
Contact Nicole S. Betts at nicolesbetts@gmail.com for information and to schedule a session at the Hubbard Street Dance Center.